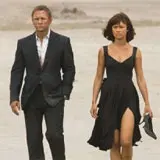 An official sequel to 2006's Casino Royale, the new James Bond film Quantum of Solace picks up an hour or so after the conclusion of that film, with 007 (once again played by Daniel Craig) and M (Judi Dench) interrogating the mysterious Mr. White (Jesper Christensen) who was kneecapped by the British agent at the end of Royale. White reveals to the Brits that the organization which blackmailed and was responsible for the death of Bond's love, Vesper Lind (Eva Green), is far more complex and dangerous than anyone had imagined, operating unbeknownst to MI6 and the CIA and casually quipping that "…they have people everywhere."
When one of those "people" prove to be a member of MI6, Bond's investigation and quest for revenge goes global where he crosses paths with a Bolivian agent named Camille (Olga Kurylenko) with a revenge agenda of her own, and an environmentalist named Dominic Greene (Mathieu Amalric). Another member of the secret organization White belongs to, Bond uncovers that Greene is conspiring to take total control of a major Bolivian natural resource while forging a deal with an exiled General (Joaquin Cosio) to overthrow that country's government.
Casino Royale worked as well as it did because it had a great cast, a solid screenplay and a director (Martin Campbell) that understood that it was character and story development that drove the movie, not just stunts or pyrotechnics (although there were plenty of both of those). The level of professionalism on display in Royale brought the spy series back from the franchise dead (thank you, Die Another Day) and in the process set it apart from the rest of the series, promising to take the series in a new, exciting direction (having the white-hot Eva Green in the film did not hurt either).
While Martin Campbell's film gave series fans hope that the franchise had found new life, it was also pretty obvious that the next film would not be on the same level, quality-wise. After all, Royale's source material was Ian Fleming's first James Bond novel. While tempering one's expectations for Royale's follow up would be wise, it would also be understandable if fans got overly excited at the same time due to the outside chance that maybe the follow up would be an equal to its predecessor. After all, the producers, screenwriters and lead actor that helped shaped Royale into a winner would be back for the next film.
Unfortunately, the oddly titled Quantum of Solace would not have Royale's director back calling the shots. There are many filmmakers working in film today that might have been able to make Neal Purvis, Robert Wade and Paul Haggis' screenplay work (after one or two more script polishes). After viewing Solace, it is quite clear that Marc Forster, director of art house fare such as Finding Neverland and Monster's Ball, is not one of them.
The producers may have felt that Forster's ability to work well with actors and extract genuine emotions out of the plot and characters would make him an ideal substitute for Campbell, who turned down the chance to direct Solace. To his credit, the Swiss filmmaker does find the emotional strength in the film's quieter scenes and does a fine job directing his cast. But when it comes to the action elements of the production, the man is creatively in way over his head. As shot by Roberto Schaefer and edited by Matt Cheese and Richard Pearson, the action scenes remind one more of the Jason Bourne series than it does a Bond film. This attempt to keep Bond modern and relevant fits the series about as well as a tuxedo that is three sizes too small.
Take the pre-credit car chase or the sequence set during a performance of the opera Tosca as examples. Both probably looked great on paper, and in the right hands could have been set pieces worthy of Fleming. Yet both are hindered by Forster's inability to proper pace the scenes in addition to the hyperactive cutting and shooting, making it nearly impossible to figure out who is chasing or shooting at whom. Remember the Madagascar chase that opens Casino Royale or the ski chase from On Her Majesty's Secret Service? They had a nice flow to them and you could actually make out what was going on in them. Action in a Bond film should be exhilarating and fun. The action in Quantum of Solace is not thrilling nor is it fun; it is borderline grim and headache-inducing.
Craig excels once again as Bond, nicely conveying the agent's loss and quest for revenge without turning 007 into a well-dressed, manic depressive terminator. After only two films, it is quite clear that this is the true heir apparent to the 007 throne of Sean Connery. French actor Almaric (The Diving Bell and the Butterfly) makes for an ideal, unsettling villain, while Kurylenko makes for a decent sidekick for Bond without coming off as your typical Bond bimbo (that dubious honor goes to the very cute but underused Gemma Arterton). Dench, Jeffrey Wright (as CIA agent Felix Leiter) and Giancarlo Giannini (as former operative Mathis) make the best out of their all-too brief role reprisals from the last entry.
Quantum of Solace is a passable, if minor, entry in the Bond cannon. While it is by no means a bad film, one cannot help but feel that it is a major step down in quality given what came before it two years ago. The next time our favorite British agent returns (as the credits promise he will), hopefully he will be more Bond, James Bond and less Bourne, Jason Bourne.
-Shawn Fitzgerald