There is a tingle of uneasiness playing and then writing an NBA 2K14 on Xbox 360 knowing that superior next generation versions are lurking right around the next calendar page turn. As I have to keep reminding myself, not everyone will be an Xbox One or PS4 adopter, and for that crowd, NBA 2K14 delivers the best video game basketball experience this console generation has offered.
This vote of confidence starts with an adjustment to the control scheme that utilizes the Pro Stick i.e. right control stick for dribble moves and shooting. Quick taps will put a variety of moves on defenders, while a steady push of the stick launches a shot. It's not an exact science as there's a fine line between a dribble fake, pump fake and shot that sometimes gets crossed unintentionally, but the revised controls that now eliminate the use of triggers to modify Pro Stick actions are tight enough and feel natural in use to label the change a success. I only wish the controls tutorial were a bit more fleshed out so I got some hints as to the best situations to use some of the moves.
Some other gameplay tweaks serve to heighten the realism of playing professional basketball. A player's energy seems to delete faster when abusing the spring button, something we are all guilty of doing from time to time. Now the consequence for such abuse is more pronounced. On the defensive side of the ball, foul calls are a little rarer than past versions, especially when partaking in another abused feature, the reach-in for a steal. I used to find fouls for reach-ins called far too easily, but now it seems more balanced between a foul, nothing happening and successfully poking the ball loose.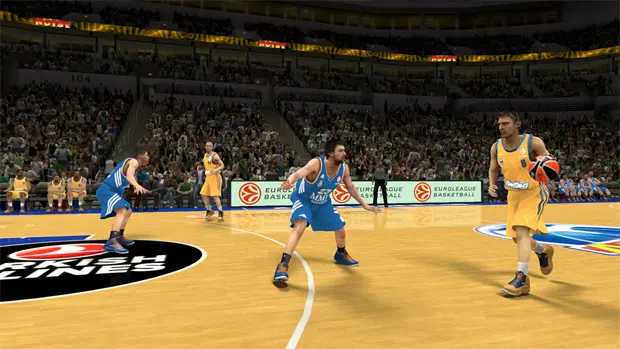 You could say NBA 2K14 is fit for a King with none other than LeBron James serving as the game's cover athlete and inspiration. James takes over for the likes of Michael Jordan and Magic Johnson, and serves as the model for a new Path to Greatness mode that allows players to follow in the King's footsteps as he builds a legacy and tries to match the NBA exploits of greats like Jordan and Kobe Bryant.
Path to Greatness is not a simulation of LeBron James' journey from high school to the NBA Championship. Rather it takes King James in all his current greatness and tasks the player with winning as many NBA Championships as possible.
There are two different ways to play Path of Greatness. The first is Heat Dynasty which keeps LeBron in Miami to create a dynasty not unlike the Lakers, Spurs and Celtics have. Two consecutive NBA titles is quite the feat, but in this mode, why not shoot for five or six?
Fantasy Journey is the other option and it transitions LeBron from one team to the next through free agency. Rather than play a season, specific key games in his personal journey are offered up, and then at the end of the season, James is off to another team to attempt new accolades. You have to not be a LeBron to enjoy these James-centric modes, and if you aren't, they're entertaining enough to put some quality time into and let James run wild on every opponent he faces.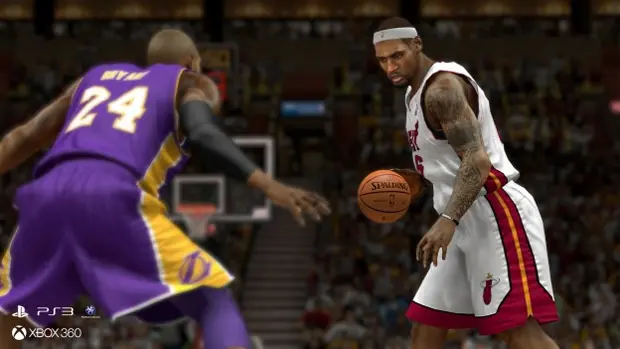 That's about it for major refinements and additions to NBA 2K14. This console generation has about run its course and this year's game takes the best from year's past, tweaks it a little, and puts forth the best possible package. Your mileage will vary depending on if you already own last year's and how further evolved you expected this year's version to be.
NBA 2K14's visual and aural presentation is an accomplishment unto itself on Xbox 360, bolstered by solid physics, collision detection and the proper sounds of the game. It suddenly looks worse when you take a peek at the Xbox One and PS4 version, but for the current generation it does the job and then some, especially when you step back from playing for a moment and enjoy the smoothness of the player animations.
As long as you're not jumping into the next generation of consoles in November, NBA 2K14 is the only new console hoops player in town this year. But it's not just a solid basketball game laced with authenticity; it's one of the more well-rounded and authentic sports video games available for any sport. At times it's almost too authentic with advertisements popping up seemingly everywhere. That's part of the all-around authenticity 2K Sports is aiming for in their ongoing basketball simulation franchise, and they've achieved it in spades.
– Dan Bradley
NBA 2K14 was played Xbox 360 for this review and provided by 2K Sports. It was released on October 1, 2013 and also available for PlayStation 3.