Mr. Peabody and Sherman Review
Mr. Peabody & Sherman is Rob Minkoff's (The Lion King, Stuart Little) dream project. A feature-length adaption of Ted Key's four-minute Peabody's Improbable History shorts from the old Rocky and Bullwinkle cartoons from the '60s (and '70s, '80s, '90s, and actually, to present).
When DreamWorks Studios bought the Classic Media Library, they got the rights to Jay Ward (now called Bullwinkle) Studios' catalog of characters–including a certain dog and his boy–and the timing was finally right.
Minkoff and writer Craig Wright, known mostly for edgy TV (Lost, United States of Tara) set out plans to bring the dream project to reality. The goal for Mr. Peabody & Sherman was simple: take a genius dog named Peabody and his precocious seven-year old adopted son, Sherman, and send them on a fun filled romp through history, slightly amended with all-ages humor and inspired character designs.
Minkoff's dream has finally been realized, for better or worse.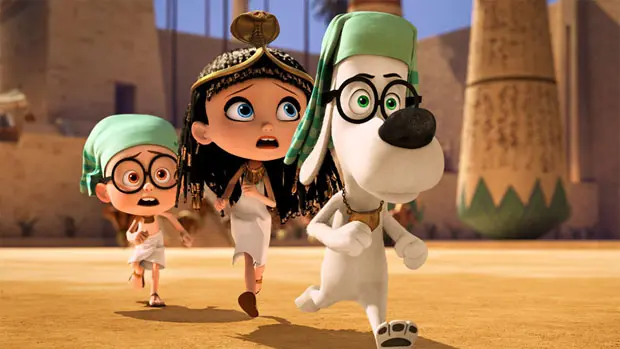 The film starts off with Peabody (Ty Burrell), a bespectacled, red bow-tied dog giving a brief history of how he came to be a genius. Next we meet his tow-headed son, Sherman (Max Charles) and together the two use the mysterious time traveling machine called the WABAC to travel to nineteenth century France just as Marie Antoinette is about to make her most famous declaration. Comedy ensues.
Back in real time, Sherman's first day of school is fast approaching, and Peabody deals with it like any father/parent would. But seeing as Sherman has actually lived through most of history, he quickly makes enemies with Penny Peterson (Ariel Winter), a cliquish bully of a girl–which is her only character development–who doesn't take too kindly to being shown up in school by the "new kid." She teases Sherman and calls him a dog, because his "father" is a dog and Sherman defends his father's honor. In the ensuing fight, Sherman bites Penny.
Peabody is called into the school principal's office and the villainous Ms. Grunion (Allison Janney), from Child Services, threatens to take Sherman from Peabody, as a dog is not fit to be a parent. Peabody decides to make good with Penny's parents, Paul (Stephen Colbert) and Patty (Leslie Mann) and invites them over for dinner. Sherman and Penny are forced to hang out, and one thing leads to another, and Sherman shows her the WABAC and things go bad. Very, very bad.
Mr. Peabody & Sherman is one of those films that transcends generations. Longtime fans of the original shorts will find nostalgic humor, while younger fans will enjoy the silliness and fun character designs. For every silly butt/fart joke, there is an adult-themed joke right behind it, usually delivered in a fast quip. And of course, there are the puns that Jay Ward's creations were best known for.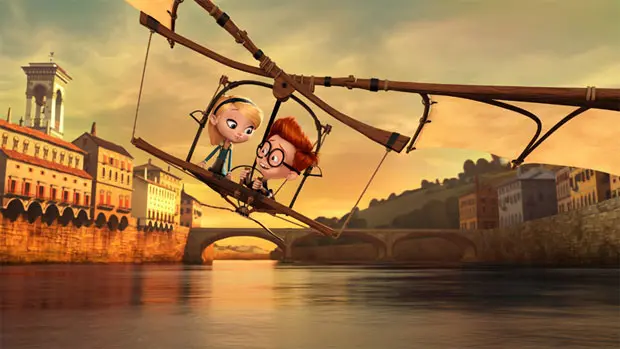 The titular duo visits five unique time periods, each with its own art direction and character design. The voice acting is top notch, with a cavalcade of stars lending their vocal talents to the production. Mel Brooks plays Albert Einstein, Patrick Warburton channels a southern Californian-styled Agamemnon, and Stanley Tucci voices Leonardo Da Vinci, and there are many, many other actors at work.
Where Mr. Peabody & Sherman begins to falter is in the under development of all female characters, and in the total failure of developing an adversary. Ms. Grunion is the clear-cut villain, but there is zero reasoning for her hate of Peabody–especially after it was established that Peabody's inventions have benefitted all of mankind, and even made him somewhat of a celebrity. Not one iota of backstory is given to Ms. Grunion, and she is evil for the sake of the script only. Penny is a bully who doesn't learn a lesson and is a little twit because she needs to be. Even Patty Peterson, Penny's mother, is a two-dimensional character, while Paul, Penny's father, gets all the personality.
Also, the theme of the film is lost in the many layers of plot. Minkoff and company are trying to make a film that deals with the relationship between a father and son, but too many distractions derail the theme and ultimately bury it. By the end, the film becomes slapstick as everything but the kitchen sink (and to be honest, I think there was a kitchen sink) gets thrown at the audience. While the film is its funniest here, to fully enjoy it, you kind of have to turn your brain off.
Mr. Peabody & Sherman
is a fun, flawed film, but is still a riotously good time. There is enough humor and story for both kids and adults, and the art direction and character designs are wonderful. And just like Ted Key's original shorts, the history is played fast and loose, and while most work as a set up for a classic "Peabody Pun," there is some validity to how the characters are presented and to what happens to said characters. My degree is in history, based in part due to my love of the Jay Ward creations growing up. The same inspirations that drove me are on display here and maybe a whole new generation will be inspired to learn about the colorful characters that make up our shared historiography.
Mr. Peabody & Sherman opens nationwide on March 7, 2014.
TheHDRoom may be paid a small commission for any services or products ordered through select links on this page.