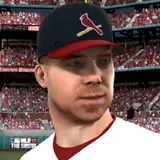 It's officially spring, and that means warmer weather is on the way (or already here, depending on where you live), the smell of fresh cut grass will soon plague my allergies, and America's pastime – baseball – is back; real and otherwise.
MLB 12: The Show for the PlayStation 3 returns for another campaign of unparalleled baseball simulation, and a career mode that simply has no peer.
As with most annual sports games, The Show 12 doesn't contain many major changes from last year's title. The game still looks as real as possible and it's still ridiculously difficult to hit with any consistency, especially on higher difficulty settings.
But that is all part of what makes this series great. If you want an arcade baseball game, go with the other guys. If you want a true baseball simulation, The Show is your game.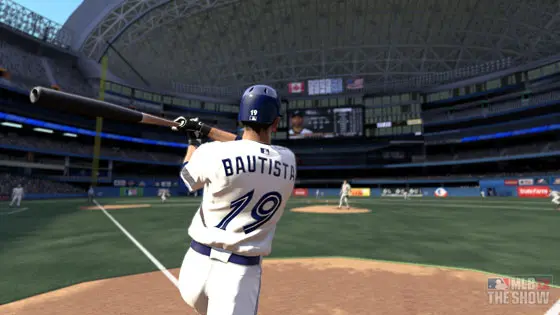 The player models are life-like and spot-on, and the "TruBroadcast presentation" makes it feel I'm watching a real baseball game, even as I'm playing. It's breathtaking.
The attention to detail that San Diego Studios applies to this series year in and year out is incredible. Stadiums have personalities, just like in real life. Kaufmann Stadium in Kansas City has its waterfalls, and Chase Field in Phoenix has the outfield swimming pool. You actually unlock trophies for hitting home runs into these locations.
While major changes may be missing, there are some new features that make The Show 12 worth owning. Building on last year's Move-enabled Home Run Derby, The Show 12 now has full Move support in all game modes. And it works surprisingly well. Hitting is still hard, even with the sliders cranked to 11, but the physical act of swinging away at pitches works to break down that fourth wall and makes you feel like you're actually in the game (sorry, EA Sports). The fielding and pitching mechanics for the Move are spot on, and once you can wrap your head around it, becomes wonderfully intuitive.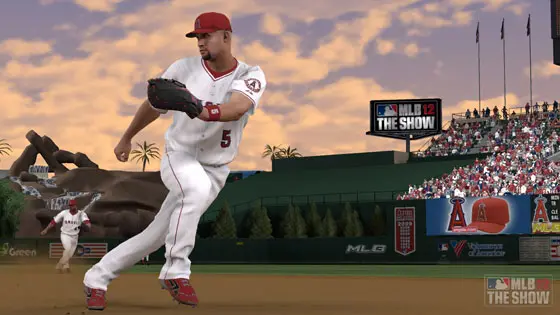 Another new feature is the Diamond Dynasty mode, which allows you to build a fantasy team to compete with other owners online. Winning games gives you points to spend on better players, so your team is constantly evolving, and hopefully getting better and better.
The Challenge of the Week feature was introduced last season, but this year it is 100% free. Last season you had to pay for your chance in micro-transactions. It was a horrible idea then, and I'm glad they went the "free" route in 2012.
Challenge of the Week gives you a scenario, such as Yankee pitcher C.C. Sabathia vs. Blue Jays outfielder Jose Bautista, and your challenge is to get as many hits off Sabathia as you can. Each hit earns points and the player with the most points at the end week wins. The winner of the week gets cool prizes such as signed jerseys, baseballs, bats, and more.
Online play is robust, and allows you to challenge other players from around the world, or to join up in leagues and play full, or truncated seasons with friends and strangers. Online play works with both the PS3 and the PlayStation Vita versions and there is no separation between the two. I can challenge a Boston fan on my PS Vita, and he can accept and play on his PS3, or vice versa. In a word, the online feature is brilliant, as it makes The Show fan base, called "The Shownation" a more cohesive community.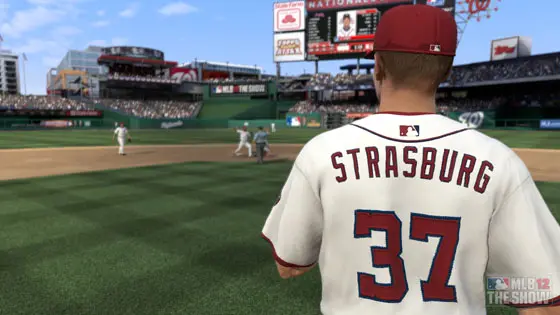 Other modes include season, franchise, and the Road to the Show (RTTS). RTTS is a career simulation where you create a player in any position and take them from Double A ball all the way to the Majors… if you are good enough. It is incredibly addictive, as each game is played in scenarios.
The player only actually plays his fielding position, so instead of sitting through every pitch, I'm responsible for balls hit to me in right field (my chosen position). My player's at-bats are the only at-bats taken, so I only have to worry about my stats and my career. My "Road to the Show" is based on my skill, and my skill alone. It's a unique way to play a video baseball game, and as I said, is very addictive.
Careers can last as long as the character stays healthy. I do age each season, and eventually, my skills will diminish with time. I only hope to have a long major league career before that happens.
Also new this year is the cross platform play feature that shares the game between the PS3 and the PS Vita. In theory, there is no difference between the two games, so players can challenge each other no matter which system they are playing on. I can be on my PS Vita and challenge a Yankee fan in New York who's playing on a PS3, with little or no difference in gameplay.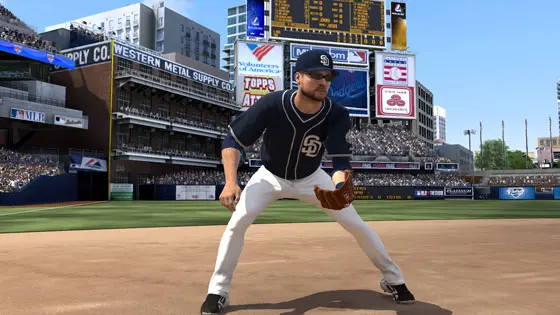 Also, cross platform play allows the player to save files in the cloud and then retrieve them with either the PS3 or the Vita. I can start a season, franchise, or a RTTS character on the PS3, and transfer it at will to the Vita for on-the-go baseball careers. I'm happy to announce that the feature works like a charm, and gives me the freedom to play my RTTS from anywhere on my PS Vita. And re-saving it to the cloud allows me to pick up my career on the PS3 when I get home. All in all, it's brilliant and a sign of what gaming in the future might evolve into.
While the game is wonderful in almost every facet, one new feature falls flat. Pulse Pitching is supposed to give the player a new way to pitch. After I choose my type of pitch, a pulsing meter appears and the goal is to hit X while the pulse is at its smallest point for pinpoint accuracy. Unfortunately, this doesn't work at all. It turns the act of pitching into a luck-based mini-game that has nothing to do with a pitcher's skill.
A Cy Young-Winning pitcher like Felix Hernandez can throw 98 mph fastballs and paint corners like an artist. Pulse Pitching reduces King Felix to a minor league "thrower" who has ZERO control of his speed or his location. It's an atrocious addition that strips away the simulation aspects that define The Show.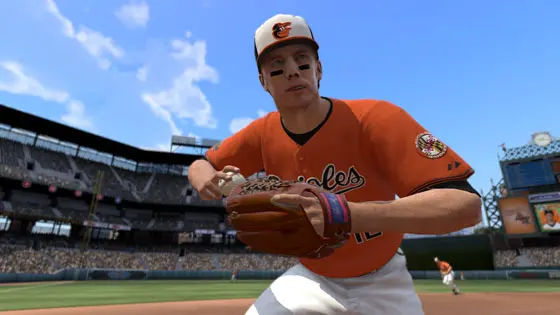 MLB 12: The Show is another in a long line of incredible baseball games. Each year, the San Diego Studios team pushes the envelope to deliver the best baseball gaming experience around. The addition of the PlayStation Vita version and the cross functionality, "Connect and Play" feature works amazingly well, and the future of the series demands that the line between the two systems will soon become even more non-existent. It has already come pretty close this year.
MLB 12: The Show is the best sports game on the market and if you're a baseball fan and you've never played it, now is the best time to give it a shot.
For a limited time, certain retailers are selling both the PS3 and Vita versions of The Show 12 for $20 off MSRP when purchased together. Check with your retailer if they are honoring this special deal.
Shop for MLB 12: The Show for PS3 and/or PS Vita for a discounted price at Amazon.com (March 6, 2012 release date).