Mega Man Legacy Collection Review: Back In Blue
True story: Right before this year's E3, I was sitting in my living room and I suddenly had an urge to play Capcom's classic Mega Man again. I don't know what brought it on — was it the Mega Man amiibo figure on my shelf, or the Mega Man mini-helmet from Loot Crate on my desk, or just a desire to revisit the classics? I don't know where the urge came from, but I knew that I wanted to revisit the game — and series — as the influences it created are still seen in games published today.
And then, low and behold, a few weeks ago, Capcom reached out to me with a review code for Mega Man Legacy Collection, a retro walk-through of the first six Mega Man games that originally debuted on the NES. Was it a coincidence? Do I have some incredible power? Probably not (still waiting on the million dollar check that I wished for shortly after), but it's safe to say that Mega Man Legacy Collection was everything I ever wanted in a anthology release and then some.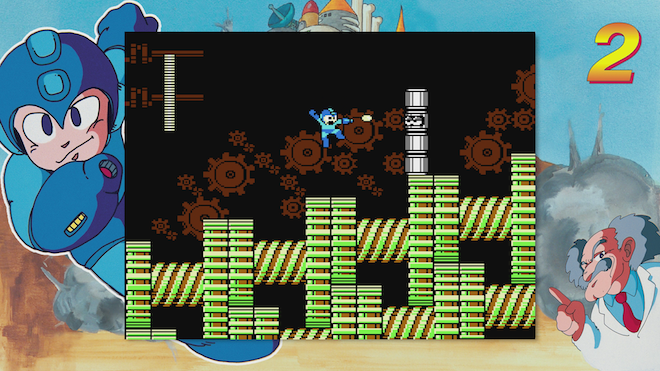 As you might imagine from the title, Mega Man Legacy Collection packages the first six iconic games in the Mega Man series. Each game is visually presented just as it was back in 1987-93, with nifty options to add cool themed borders to retain the 4:3 ratio, or even go full screen. Capcom has sweetened each title by adding a museum — a database of each enemy and boss Robot Master, a collection of music from each game (in that glorious 8-bit MIDI format), and even a built-in practice mode where the player can tackle each boss in each game to figure out what weapon combo works best. It's like each Mega Man game is given a "definitive edition" treatment, multiplied by six, and it's wonderful.
If you've never played Mega Man, the story is simple. Dr. Light creates a hero to battle his nemesis, Dr. Wily, who has, in turn, created evil robots to try and take over the world. This hero, who is given a mega-blaster arm cannon, is dubbed "Mega-Man" (or Rock Man in Japan) and he saves the world from Dr. Wily and his evil Robot Masters. Each time Mega Man defeats a Robot Master, he acquires that boss's weapon, which can be switched out situationally. This assimilation of weapons and skills is what makes Mega Man strong enough to tackle all nine bosses in each game.
The story varies with each installment, as Dr. Wily ends up being replaced with other nemeses, and Mega Man does get a partner robo-dog starting in Mega Man 3 and other allies like Proto-Man, but the gameplay remains incredibly solid throughout the six game series (the series went on to 9, and then grew into variations like Mega Man X and Mega Man Zero).
And let me tell you, I forgot just how difficult the original Mega Man was. I've not cursed this much at a game in years. And, as hard as the first game is, Mega Man 2 solves all of that by delivering one of the most-perfectly balanced games ever. Mega Man 3 through Mega Man 6 build on that balance to round out the collection, and the fun, imaginative, yet simply-named bosses — known as Robot Masters — (Cut-man, Air-Man, Heat-Man, etc.) never repeat in design or concept.
Adding to this incredible Legacy Collection is a new challenge mode that essentially remixes the stages (even between games) and of course, a very difficult Boss Rush mode that lets players challenge the Robot Masters one after another. Both come with leaderboard eligibility to share your progress with other players.
It's hard not to think about the deep cultural impact that Mega Man has had on the video game industry. It even spawned a cartoon series and a few toy lines and Mega Man was featured in Super Smash Bros. 3DS and Super Smash Bros. Wii U, and he even got his own amiibo. One of my oldest friends used to draw Mega Man bosses back in high school, even going so far to creating his own Robot Masters in the unique Mega Man style. And today he's a professional artist. The influence of the little blue bomber goes beyond gaming and is very deep.
Capcom has done a wonderful job bringing these six incredible games together on a new engine that retains all of the charm and challenge from the original 8-bit files. Mega Man Legacy Collection is far more than just a retread of older games, as the included Mega Man Museum, databases, challenge modes, and leaderboards gives a new generation incentive to try out one of the all-time classic game series, and gives veteran players a wonderful, fun, and nostalgic walk down memory lane.
Mega Man Legacy Collection is available in digital format now on the PSN for Playstation 4, Xbox Store for Xbox One, and will be coming to the Nintendo 3DS next year. A physical disc version is also in the works. This review is based off a Xbox One review code provided by the publisher.
TheHDRoom may be paid a small commission for any services or products ordered through select links on this page.