Back in August, I reviewed this year's version of the seminal Madden NFL franchise, and after falling desperately in love with last year's edition, I found the latest to be a little too similar and buggy.
But with the advent of a new console generation (all due respect to the Wii U), Madden NFL 25 gets a second chance to make that all-important first impression, and the results are satisfying to say the least.
Immediately, the PlayStation 4 version of the game loads so much faster. It connects to my account on the EA Servers and has me ready to go within seconds. In the previous version, this process could take up to 45 seconds or more. There is nothing like getting pumped for some football, only to have to stop and wait to connect to a server. Once the user interface (UI) kicks in, there is zero lag between screens, so the entire UI is available for perusing without those pesky hiccups from before.
Once in a game, that's where the next-gen graphics start to wow. EA Sports has rolled out a new engine, called IGNITE, which ups the ante of the previous version's Infinity Engine. IGNITE is supposed to make players look and move like real people and it's also supposed to create a player AI that makes sense. It does both well, for the most part.
Players look incredibly realistic. Finally, Washington Redskins coach Mike Shanahan doesn't look like a steroid-abusing Quasimodo. He just looks like an old dude leading a bad football team. Hey, "It's in the game."
The crowds are now more animated and individual models have been created and the change is definitely noticed. The lighting effects, whether playing at day, dusk, or night are consistent and beautiful, all around. shadows actually correspond to the players on the field, giving the presentation a level of realism never seen before in a console Madden NFL game. Unfortunately, the shadows don't carry over to the sidelines and coaching staff, as coaches who wear visors of hats still have zero shade under the hats' bill. It might be nitpicking, but in a game that seems to get everything else right, something this small is a distraction.
When playing a game, I've noticed that the game speed moves much faster. The IGNITE engine smokes here, as players move and act like real life football players. It took me a few games to get up to the level of the AI, as defenders close quicker on WRs, linebackers get through the line much faster, and balls–even when the pass button is barely tapped–zip across the field, oftentimes off the mark. It's almost as if I have to relearn how to complete a pass in this game.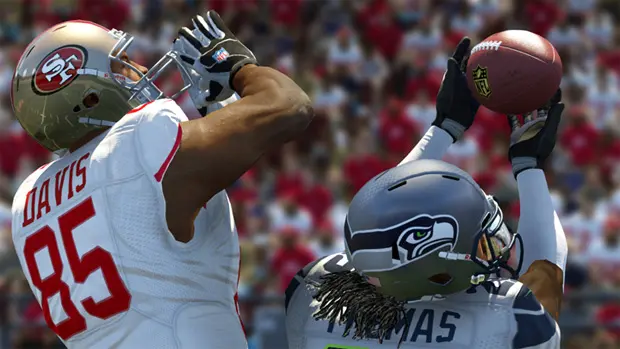 As frustrating as that is, this is the most real I've ever felt playing a football game. As anyone who has ever played the game–on any level–can tell you, once that ball is snapped, it's on-field chaos of bodies crashing into one another and the hope that a skilled finesse play can move the ball 10 yards, just to do it all over again. Madden NFL 25 for the PS4 achieves that. And to be very clear, the previous M25 version did not. Not like this, anyway.
The game is gorgeous on all fronts and the coaching and player models have seemingly been redesigned to actually look like their real life counterparts. Mike Shanahan looks like Mike Shanahan; Robert Griffin III looks like RGIII, with dreads that actually move realistically, and Brian Orakpo looks like the beast that he is.
The play control is much tighter and the game moves much faster. These are all big wins, as these were all issues I had with the previous version. Unfortunately, there are issues with the PS4 version as well.
The running game, which was overhauled this year for all versions, is woefully unbalanced. I understand that EA Sports goes for realism, but in previous games, if the offensive line opened a hole for an RB, a simple tap of the sprint button and maybe a juke or a hurdle would get the player though the opening and to considerable daylight. In this version–both, actually–EA Tiburon has tried to make the running back position too realistic.
When that hole opens, I head to toward it, but in doing so, my player has to stop, readjust himself–including setting a plant foot–and then I can try to hit it. I say try, as that hole is already closed and I'm tackled for a short loss or no gain. While trying to make the game better, EA has effectively rendered the RB position useless. In the previous version of Madden 25, I actually complained that the RB was too powerful. This is the definition of unbalance at the position.
This unbalance is especially devastating due to the new increased game speed brought on by the IGNITE engine. Players having to relearn passing, and the running game is an episode in frustration. Both issues do get better with practice and experience, but be prepared for some anger in the early games.
Another issue, which just might be tied to my woeful Redskins, is in the Gameflow play-calling feature. The IGNITE engine is designed to increase all player AI on the field to add a level of realism to the video game. Unfortunately, Gameflow defaults to some very strange plays and does not take into consideration any factors on the field. With the clock running out and no timeouts and down by four, on my own 35 yard line, real teams won't call three consecutive run plays. Why does Gameflow "suggest" that of me and my team? That essentially means that I have to call audibles on each play all the way down the field. That's not realistic.
All of the previous game's features are present, including Connected Franchise, Madden Ultimate Team, GMC Never Say Never Moments, and Online head-to-head play. For the PS4 version, remote play with the PS Vita is also enabled and works splendidly. Also, your Madden Ultimate Team is tied to your account on the EA servers and can be transferred over from the PS3 version.
Differences between Madden NFL 25 for the PS3 version and the PS4 are slight, but very important. The PS3 version was glitchy and buggy and frustrating most times, whereas the PS4 version is gorgeous, and smooth, and still frustrating, but it is a much better game all around. If you waited for next-gen for the best NFL football experience, you will be gladly rewarded with a great game that runs smooth and fast, is pure eye candy to look at, and feels like a real football game in the trenches–where it counts. This is the game we deserved from the get go.
Madden NFL 25 was played on PlayStation 4 for this review and provided by EA Sports. It was released on November 15, 2013 for PlayStation 4, and on November 22 for Xbox One.
Shop for Madden NFL 25 on PS4 for a discounted price at Amazon.com.