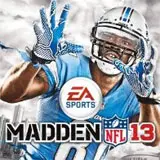 Madden NFL 13 for the Wii U is an obvious port from the Xbox 360 and Playstation 3 version released a few months prior. Some relevant features were lost in translation and are dearly missed, while new exclusive and fitting GamePad features rise to the occasion.
Whether the additions outweigh the subtractions is in the eye of the beholder. Personally, I am torn right down the middle.
On the surface, the game is a close approximation of its Sony and Microsoft counterparts (read our Madden NFL 13 PS Vita review). The gameplay visuals are a little less refined as colors seem slightly more muted than they should be, and some detail appears to be stripped from the backgrounds. Slow-motion replays look fantastic though. Overall these small chinks in the presentation armor are not far enough off to raise any red flags.
Some unwelcome jittering filters its way in when the action is at its peak. Whatever is causing these framerate drops is also likely to blame for the pause during a turnover running about 2-3 seconds too long and feeling like an in-game intermission. These flaws are made all the more perplexing considering the game is not running on the most current and advanced engine.
Absence of the biggest addition to the Xbox 360 and Playstation 3 version, the touted "Infinity Engine," is unfortunate. Great strides made with the new engine to render real-time player tackling and contact animations based on physics has been reset to last year's canned animations. A new "next-gen" console should be full steam ahead, not taking a giant step back in the process.
Can you really blame EA Sports and Tiburon for no Infinity Engine? Not really, because they likely received development kits not too long ago and were faced with a truncated production cycle on an unfamiliar platform. First-gen ports on a new console are always tricky and rarely ever come out as advertised. No Infinity Engine, along with no Madden Ultimate Team or any team online play that I could find, is disappointing for those familiar with their inclusion in the other versions, but not completely unexpected under the circumstances.
Even less of a surprise is how seamlessly the GamePad integrates with Madden's gameplay. It reminds me of the relationship between the Wii Remote and Wii Sports Bowling; they were made for one another.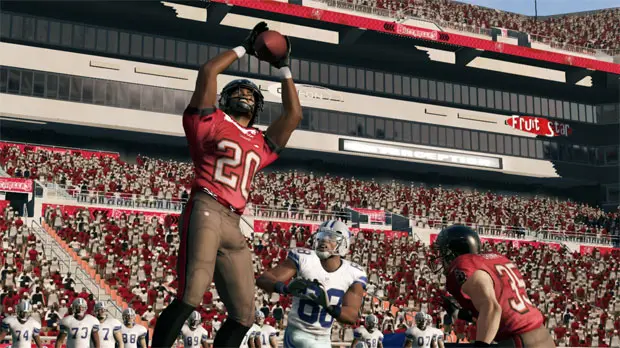 The optional GamePad functionality breathes life and interaction into the typically static playbook. On offense, the GamePad touch screen is used to cycle through and choose plays, or scramble for last-second audibles. Once the play is called, and here's where the GamePad really shines, icons representing the players scurry to the line of scrimmage on the GamePad into the selected formation. At this point, any player can be pressed to take control of or move that player, or a receiver or running back can have their routes changed by simply drawing on the screen.
The same applies on defense where plays can be altered once the players are in formation by clicking on them and drawing where they should go instead. This on-the-fly customization is especially useful when wanting to bring in a corner back or safety on an unexpected blitz.
There are some kinks with the GamePad functionality, starting with the placement of the audible button on the upper-left portion of the touch screen. On more than one occasion I had to press the button multiple times to register the audible request. Those precious seconds off the 45-second play clock add unnecessary stress to the already stressful situation of trying to beat the clock while messing around with player routes. As much as I enjoy moving players around on the GamePad, and as unnecessary many of those adjustments may be, it does take time and can easily result in a delay of game penalty.
Madden NFL 13 supports "detached gaming mode," meaning you can hit the "-" button and play the entire game on the GamePad, sans the playbook features. This mode can only be activated in the main menus between games, and is a welcome and somewhat unexpected addition for a launch day port of a complex game.
In theory, a full year of development and familiarity with the Wii U architecture can add even more GamePad functionality such as drawing plays from scratch and, if the second GamePad functionality comes to fruition, in-home competitive play where each player can call plays on their own GamePad so the other person can't see the screen they are choosing from. That kind of privacy is second nature to online players, but has yet to be properly resolved for offline play.
For the first time, a proper Madden game is available on a Nintendo console. In and of itself that is a big accomplishment.
Even so, Madden NFL 13 on Wii U is a mixed bag worth applauding the mostly intact port and new exclusive features, even if that means playing on an antiquated engine and sacrificing team online play. It's hard to imagine playing the other Madden games without the GamePad after calling plays on a touch screen – which is the point – and paves the way for greater innovation to come.
– Dan Bradley
Shop for Madden NFL 13 on Wii U for a discounted price at Amazon.com (November 18, 2012 release date).