The word "big" in the title of Sony's Playstation 3 exclusive game LittleBigPlanet 2 from developer Media Molecule should have a major gripe playing second fiddle to the word "little." Aside from the diminutive hero Sackboy there is little that is not "big" in the sequel. This game and the creative tools it offers are so vast that its owners might as well shovel their existing games library into the garbage bin if hoping to take full advantage. There will be little time left over for anything else other than eating, drinking and maybe 40 winks.
Like its predecessor, LittleBigPlanet 2 represents the Legos in a toy box full of figures and dolls with limited articulation. By themselves the scattered bricks aren't all that exciting. However, the more effort and creativity put into building them will yield infinite possibilities for fun. In other words, you get out of it what you put into it more so than a traditional one-and-done game.
If LittleBigPlanet was the house Lego set then LittleBigPlanet 2 is an entire city block. Developer Media Molecule has taken what was already a robust and fulfilling experience and expanded it in every way imaginable. They've managed to do so without over-complicating the core game so casual gamers and hardcore level-builders can equally be fulfilled as they were in the original.
The story mode in LittleBigPlanet 2 is driven by the idea that the menacing Negativitron is threatening to destroy the LittleBigPlanet world. Stopping him is a matter of playing through a variety of platforming and – new to the franchise – on-the-rail shooters or side-scrolling levels that your brain continues to remind can each be built from scratch with the game's tools. Discovering what the next level holds and how it has been designed from a creative and physics standpoint is far more enticing than the cut-scenes about stopping Negativitron.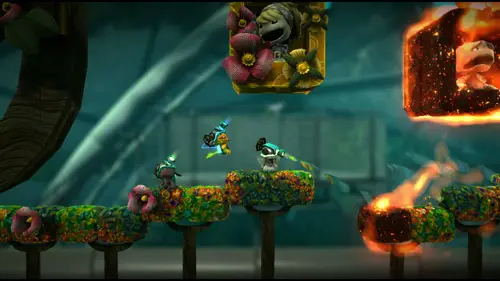 Aiding the adventures are some new tools at Sackboy's disposal that are put to use often. The Grapple Hook is the most impacting addition as it allows Sack Boy to not only swing from stationary and sometimes moving objects freely, but also grab objects from afar and pull them in. The physics of the Grapple Hook are spot-on which take some getting used to but make judging swings and maneuvers easier once adjustments are made.
With more moving objects in LittleBigPlanet 2 versus the original there are more instances of small bugs that pop up. On a handful of occasions an object vanished that was needed to proceed forward based on some user-generated movement or action by Sackboy. A quick restart of that immediate area that the game offers didn't fix the issue but backing out of the game entirely and coming back erased the quirky bug altogether.
Media Molecule has fully implemented a social gaming experience into LittleBigPlanet 2 so there's an opportunity to meet and greet other players regardless of where you are in the game. Cooperative play is available for up to four players with some obstacles and puzzles designed exclusively to require multiple players to pass. Most of the time playing with friends is fun, but if someone isn't up to snuff with the Z-axis that sometimes comes into play or the Sackboys spread out on the screen and the camera struggles to fit them all, it can be more frustrating than playing solo where the only real adversary is your own mastery of the controls.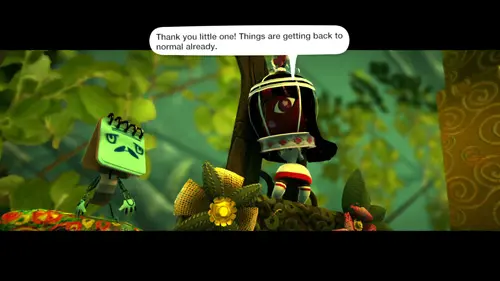 Customization is the name of the game in LittleBigPlanet 2 and there is no shortage of it. Joining the series in this sequel is the ability to create Sackbots i.e. little A.I. controlled characters whose design, behaviors and levels they appear are totally up to you. Creating and enjoying these little buggers is almost a game-within-a-game. They're outdone though by the Creatinator helmet that allows you to shoot anything that you've created out of Sackboy's head. Because there are endless possibilities of things to create in LittleBigPlanet 2 there are limitless possibilities for ways to use the Creatinator.
Your mind is the only limitation when creating levels in LittleBigPlanet 2. There are seemingly endless tools at your disposal and the ease of how the basic tools are laid out makes it easy for even beginners to jump in and start creating. Even if you don't master the creation tools like the Microchip that allows you to layout complex timed sequences of switches and actions or the Controlinator for building a variety of game types, there are literally millions of available user-created levels that can be downloaded and enjoyed. Chances are if you have a favorite legendary game then someone has already created a LittleBigPlanet 2 version of it. Not everyone will be able to master the game from the somewhat insufficient tutorials; you'll either have a knack for creating outstanding levels or you won't.
LittleBigPlanet 2 plays in a league of its own as its predecessor did, and to some degree still does. The argument could be made that Media Molecule tried to pack too many new features into one new version – including a 10-level demo for Move – but it's hard to imagine this game without any of them. It's a blast to play whether you're a creator or not. If Media Molecule can truly master multiplayer within this world then a hypothetical LittleBigPlanet 3 could score a perfect 10.
– Dan Bradley
Shop for LittleBigPlanet 2 for PS3 for a discounted price at Amazon.com.