'Leap!' Review: Take The Chance
The new animated film Leap! has a strange, and storied background — and we're not even talking about the film's story. Leap! was originally released last year in Europe under the title Ballerina, to great critical acclaim. It opened in Canada earlier this year, but didn't get an American release until after it was purchased by The Weinstein Company and certain roles were recast (or, in the case, re-recorded). Now, after almost a year, Leap! is finally in theaters and American audiences get the chance to jump into a charming and fun tale of girl chasing her dreams on the streets of 19th century Paris.
Leap! stars Elle Fanning as the voice of Felicie, an orphan who loves to dance, and Nat Wolff as the voice of Victor, a budding inventor who dreams of going to Paris to invent a better world. Felicie and Victor run away from the orphanage and the burly Luteau (voice of Mel Brooks) and try to make a life in the city of light. Felicie stumbles upon the Paris Grand Opera House and spies a ballerina performing a dance from Swan Lake, which ignites her dreams. Victor, on the other hand, stumbles his way though misadventure, ending up as a low level assistant to Gustave Eiffel.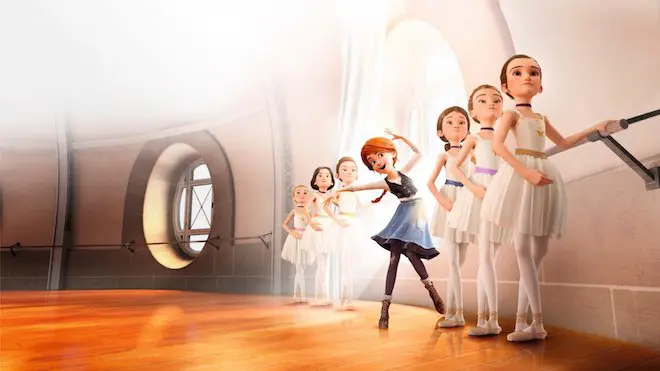 Felicie connects with Odette (Carly Rae Jepsen), the hobbled caretaker of the Grand Opera House, and ends up stealing the identity of the rich, snooty Camille (Maddie Ziegler) to attend the prestigious ballet school. Camille's mother (voice by Kate McKinnon, one of three voices she does here) is a vile woman, who will stop at nothing to make sure her daughter succeeds — at all costs. Felicie has to overcome obstacle after obstacle, and learn dance from Odette to finally achieve her dreams and become the dancer she has always wanted to be.
The script by Eric Summer (who also co-directs with Eric Warin), Laurent Zeitoun, and Carol Noble succeeds in creating a charming tale of what it takes to make dreams come true. Sure, there are plenty of animated movie cliches, and the inclusion of modern pop songs don't seem to fit a 19th century french tale, but at its core, Leap! seeks to inspire, and does so. The argument that you can't move forward if you are afraid to take that first jump — or, in this case, leap — resonates with the audience. The young girls in the audience I saw this with were thrilled by Felicie's adventure, and were inspired to follow their dream and not be afraid to leap.
The animation in Leap! is well done, with Summer and Warin opting to forego any French art influence to create a pretty standard animated film. One thing that does stick out is the animation of the dance scenes, whether on the boards at the Opera House, or on table at the local pub, the animators did a wonderful job capturing the motion of the dancers and characters as they moved, creating art within art.
Leap! suffers from too many characters being underdeveloped, which happens more and more in animated films these days. While the audience gets to know Felicie and Odette, Victor, as a main character, is reduced to one note, and lots of tiresome slapstick comedy. He's the Jack Tripper of the animated world. Also, the villain is evil just to be evil, with nothing there to flesh them out.
Leap! is a fine film that turns on the charm and inspires where it needs to. You will root for Felicie, and have fun doing it. It doesn't bring much — if anything — new to the industry, but after a long journey to American theaters, the film can finally find an audience. Young children will enjoy the story and the music and the dancing, and adults will find some humor in it as well. When you take the kids to the movies this weekend, and aren't sure what to see, take the leap and see Leap!
Leap! is rated PG and is in theaters now.
TheHDRoom may be paid a small commission for any services or products ordered through select links on this page.