'IT' Review: We'll All Float On Anyway
It's important to state first off that Stephen King's IT is my favorite of all his books. In the summer of 1987, I read the book, and when I finished it, I immediately turned it over and read it again. That was well over 2,400 pages consumed in three short months. I've never done that with any book, before or since, but the power that King's tale of a group of kids and later adults taking on an ancient evil was thrilling to me as a teenager. And it still is as an adult. The feature film version of IT is by far King's creepiest movie. And it's not just the killer clown, Pennywise, but all of Derry, Maine's dark secrets that make this one of his scariest films ever.
I Love The '80s!
IT is the story of a group bullied kids in 1989 (updated from the 1950s version in the novel) who are dealing with a rash of child disappearances in their town. As the tension in Derry grows, Bill Densbrough (Jaeden Lieberher) is particularly affected when his little brother Georgie (Jackson Robert Scott) becomes a victim. Bill spends all his free time researching the Derry sewer system, where his brother was last seen, and is sure that Georgie washed out in The Barrens, a wooded area outside of town. Bill and his friends, Richie Tozier (Finn Wolfhard), Eddie Kaspbrak (Jack Dylan Grazer) and Stan Uris (Wyatt Olef), plan to use their upcoming summer vacation from school to explore the Barrens and the sewer system to find little Georgie.
Standing in their way are a group of teenage bullies, led by Henry Bowers (Nicholas Hamilton), who terrorize the group, and a few other kids, including Ben Hanscom (Jeremy Ray Taylor), Mike Hanlon (Chosen Jacobs), and Beverly Marsh (Sophia Lillis). The bullied kids band together one day to fight off Bowers and his cronies, and become fast friends. They realize that they have all been plagued by scary visions of clowns, lepers, paintings that come to life, and more. Ben, who is new to town and has been spending his friendless days in the Derry Library, has been researching the town's odd history and has figured out that bad things happen in Derry every 27 years, and this "loser's club" decides that they are the only ones who can stop it for good.
But Wait, There's More
IT, the novel, told the story of the group as kids and as adults, but this film only focuses on the characters as kids, which keeps the story focused. A second film will reportedly explore the adult side of the characters, and that film is just now going into pre-production for a 2019 release. By focusing on the story of the kids, director Andy Muschietti, and screenwriters Chase Palmer, Cary Fukunaga, and Gary Dauberman, are able to generate some great nostalgia amidst the scares.
IT is actually funnier than you might imagine, mostly from Richie's constant one liners, and from a few situations involving a boy band, but the trials and tribulations of being an awkward kid certainly come through, and the audience can relate to at least one member of the loser's club. My heart ached for the unrequited crush between one of the boys and Beverly, and I truly felt for him. The film is actually strongest when it focuses on the adolescence and less on the murderous clown.
IT feels more akin to Stand By Me (also written by King), as this group finds each other and become friends. Unfortunately, some of the characters are underdeveloped, mainly due to a lengthy novel being condensed into two parts, and then condensed again into just over two hours per part. I never really felt that I got to know Mike or Stan, and each has a role to play in the eventual fight with "IT." The performances from the child actors are incredible. Most of these actors have never worked on a film this big, and they pulled it off like seasoned pros.
We All Float Down Here
As for the horror aspects of the film, IT is Stephen King in the age of The Conjuring. There are plenty of scares, and the creepiness of the Bill Skarsgard's Pennywise does an amazing job of creating discomfort. Muschietti uses shadows and the fear of what might be in them for the fullest effect. And the overall design of the clown, from make up to the costume, is amazing. This Pennywise is less Bozo, the Clown, and more in line with the scary carnival clowns from the 1940s. Skarsgard's Pennywise is the clown from the novel brought to frightening life, with no disrespect to Tim Curry, who did a wonderful job for the ABC mini-series in 1989. This Pennywise is scary; the way he moves, the way he speaks, his crazy eyes, this is why people have a fear of clowns. And he's not the only creepy thing in the film.
IT is unequivocally Stephen King's creepiest film ever. I can't call it the scariest, because most of the good scares in the film have been ruined by the commercials and trailers. I still had goosebumps up and down my arms every time IT (in all its forms) was on-screen, but I never jumped and my heart never truly raced. Hopefully Warner Bros. will pick up on that for the next film, and save the scares for the dark theater and not as a commercial break from Rick and Morty.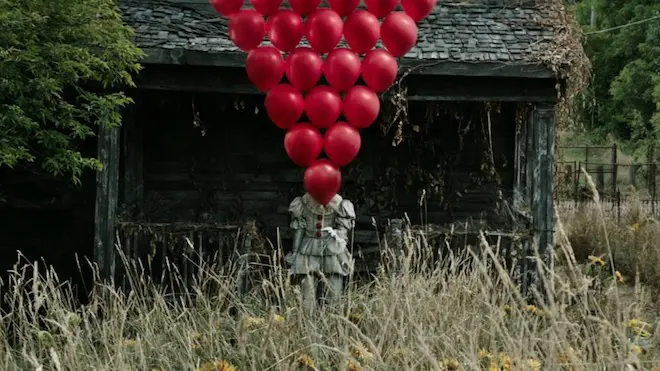 IT is a story that means something to me on personal level. It always has, and it's resonated with me for the 30 years since I first read it. I'm glad that we finally get a movie that respects the subject matter and truly gives it a frightening form. I'm thrilled that the time change from the 1950s to the 1980s works, and probably works better, as a child of the '80s myself. And I'm ecstatic that Pennywise the dancing clown is a completely terrifying monster, one who can rightfully take his place among the great cinematic horror monsters of all time. All in all, IT succeeds in what it set out to do, and as a long time fan of the story, I'm completely thrilled.
IT is rated R and is in theaters now.
TheHDRoom may be paid a small commission for any services or products ordered through select links on this page.