Hot Tub Time Machine 2 Review: Insulting, Nonsensical, Yet Funny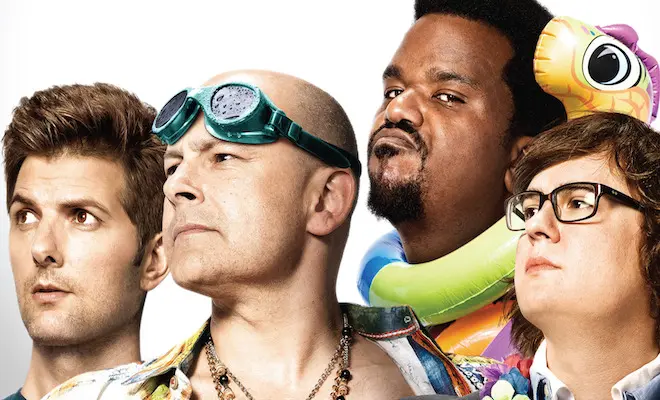 I'm not too sure there was even a demand for a sequel to 2010's Hot Tub Time Machine. That film was a modern throwback to the raunchy comedies of the 1980s, punctuated by the fact that the lead characters, played by John Cusack, Clark Duke, Rob Corddry and Craig Robinson all were thrust back in time to 1986 so Cusack's character could find himself. At it's core — amidst all the toilet humor — was a story with some heart and it surprisingly worked.
Now, five years later, Hot Tub Time Machine 2 is here and while the humor is still spot on, the heart is nowhere to be found. Cusack wisely opted to not reprise his role, and Adam Scott (TVs Parks And Recreation) stepped in as a new character. The plot revolves around Lou (Corddry), after using the time machine to become a billionaire, getting shot in the…uh…nether region by a mysterious assailant. Nick (Robinson) and Jacob (Duke) have to use the time machine to go back and save Lou's life. Unfortunately, the time machine doesn't go back into the past, but this time the future, and the characters get to see what their actions have done.
The biggest problem with Hot Tub Time Machine 2 is that the three returning leads are all A-holes. There are no redeeming qualities in these men. And when they meet Adam Jr. (Scott) — Cusack's characters' son — he is such a buffoon that any chance this film had of recapturing that subtle emotion from the first film is lost.
It's hard to root for A-holes, and Corddry, is his usual self, meaning that I got tired of him at about the ten minute mark. The film tries to find that meaning in the subtext, but franchise creator Josh Heald's script is heavy on the junior high school humor, which means dick and fart and sex jokes ad nauseum. The script takes insult humor to the next level, and actually inadvertently breaks the fourth wall to insult the audience. In fact, I found Hot Tub Time Machine 2 incredibly inexplicable, insulting, non-sensical, immature, and asinine. But I still laughed. A lot.
Hot Tube Time Machine 2 is just one of those films. If you want to laugh out loud, the jokes are there. But you won't get much else. I practically hated every lead, and when Corddry wears out is welcome before they even get into the new time period, that's a problem. But this happens when you take four actors who are best known as "sidekicks" and try to make them leads. Without Cusack there to keep them balanced, and dare I say grounded, the entire production devolves into a vanity movie a bunch of friends made while baked out of their skulls.
The Hot Tub franchise could have become the next Bill and Ted. It could have gone the smart route and developed into a new comedy franchise. Instead, all involved took turns crapping into a hat and then used the contents of that hat to try and paint a portrait. The end result was a yucky, stinky mess. But at least it was funny.
Hot Tub Time Machine 2 is rated R and is in theaters nationwide.
TheHDRoom may be paid a small commission for any services or products ordered through select links on this page.