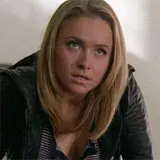 This season of Heroes is slowly nearing its end and, quite possibly, it may be the end for the series itself. There is little sense of urgency to be found however in this week's episode Pass/Fail' which continues the series' slow build towards the finale with a number of quieter character moments rather than juicy revelations.
When Hiro suddenly collapses in Noah's apartment, he is rushed to a local hospital where doctors examine him and determine that they will have to operate on his brain tumor. While the surgeons in the real world try to save his life, Hiro is imagining himself on trial. The accusation: breaking his heroic code for personal gain.
Presiding over the trial is Hiro's father Kaito (George Takei, Star Trek) while Adam Monroe (David Anders, Alias), the series' villain from its second season, presents the case for "The World vs. Hiro Nakamura." We soon learn what is at stake for Hiro if he fails to prove his innocence to the court as Kaito tells his son that the punishment for breaking his code would be a sentence of death.
Though it is always a pleasure to see George Takei, even in a part as slight as this, unfortunately these scenes felt largely meaningless. Hiro ends up losing the court case yet, in a frustratingly arbitrary moment, Kaito decides to pardon Hiro anyway but only on the condition that he fight and defeat his old foe Adam Monroe.
It is a frustrating change to the rules and it is hard not to feel that besides Hiro's brain tumor being cured, not much of importance has taken place. Hiro may now realize that he acted badly but he has no comeuppance and does not lose anything. Indeed, he appears to end up gaining by admitting his transgression to himself as his tumor appears to be cured by the end of the episode.
More successful is the episode's story thread in which Sylar visits Claire and attempts to find out how he might avoid dying alone. Understandably Claire feels reluctant to help the man responsible for her father Nathan's death in spite of Sylar's best attempts to persuade her that they are in fact quite similar. At first he seems to make little progress.
Eventually however he breaks her down and gets her to reveal her solution to him. Claire's suggestion that he discard the powers that he picked up by murdering others to regain his humanity is simple enough and could allow a reboot of sorts for the character. If this takes place it could well prove a good move. After all, restricting Peter Petrelli's ability to copy powers has resulted in him ended up making him a more compelling character with stories evolving out of the character's limitations. Similarly, I think that if Sylar is weakened a little he too could become more interesting as a result.
In the course of her exchange with Sylar, Claire also comes to an important realization about her feelings for Gretchen. Her decision to acknowledge her feelings for Gretchen in front of others gives their relationship a little more definition and provides some resolution to a plot point that had been left hanging up until this point.
Meanwhile Samuel continues his attempts to persuade Vanessa to take a chance on him and rekindle their romance. As was strongly hinted at in last week's episode this effort involves him taking her to the transformed valley which, we learned, was designed based on a conversation the two had when he had visited her in her dorm room at college many years before.
Both Robert Knepper and Kate Vernon are superb in these scenes which play out at a very leisurely pace. As the episode progresses we see Vanessa slowly respond to Samuel's reminders of their past together and her apparent pleasure at sharing some happy memories with him. We are aware that for her this is an exercise in nostalgia, yet Samuel allows his hopes to build that they were reconnecting. Of course when Vanessa tells him that she's not able to be with him, Samuel's reaction is predictably extreme as we watch his dreams shatter and witness his breakdown at the ice cream parlor they went to together.
Having kept us guessing throughout most of this season we finally know what drives Samuel and what everything up until this point has been in aid of. We also discover what the catalyst for his villainy will end up being. It turns out that he is not hoping for world domination or to exterminate all those who had been involved in the attempts to capture people with abilities. Instead he did it all for a woman and it is his rejection by her that will set him on a destructive path.
In the episode's closing scenes we get a first taste of the destruction that is sure to follow as Samuel obliterates a town. It is a satisfying conclusion and sets high expectations as we head towards the season, and possibly series, finale.
Hopefully Heroes can build on this and, in the event that this proves to be its final season which seems increasingly likely in light of the show's disappointing ratings performance, head out on a high note.
– Aidan Brack