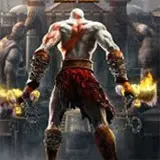 The God of War Collection on Playstation 3, designed to prep gamers for the upcoming March release of God of War III, is pure win before cracking opening the case. The original God of War and God of War II have already established themselves as best of class Playstation 2 titles so there is no surprise as to the enjoyment and convenience both of these epic Spartan adventures offer when playable from a single Blu-ray Disc.
As the chiseled Spartan warrior Kratos, you battle enemies of the Gods in the ancient Greek world through the most brutal means possible including impaling, decapitating and worse. Almost the entirety of both games is spent hacking, slashing and using accumulated god-like powers on fodder for your blades ranging in size from comparable to bosses so big the screen cannot contain their enormous scale. When not fighting, Kratos is asked to flip switches, push boxes, solve relatively simplistic puzzles and, to further illustrate the franchise's mature nature, bed a naked mistress or two with interactive analog stick cues. There is never a dull moment and always something bigger and better to come in the God of War games.
Following Nintendo's lead with the Metroid Prime Trilogy for Wii, Sony has built in some added value with the God of War Collection designed to lure those on the fence with revisiting games already played forward and backwards multiple times prior on an inferior platform. The most obvious upgrade has been applied to the visuals which have been pushed up to 720p resolution at 60 frames per second with new anti-aliasing for quicker and smoother on-screen action. The graphics improvement is noticeable on both games but more so on God of War II which inherently benefits from more complex models.
For whatever reason, Sony chose to not dramatically improve the quality of cut-scenes in either God of War game. The transition from in-game to cut-scene is supposed to be an upgrade in quality but here the sharp lines and clearness experienced whilst hacking up all flavors of underworld foes are replaced by oftentimes blurry and pixilated messes. Thankfully the cut-scenes are not designed to be played so their neglect yields a far less negative impact than if popping up in the midst of a boss battle.
Sony has also included trophy support for both God of War and God of War II within the Collection, a first for the franchise. Trophies are unlocked relatively often while forging through the campaign which makes putting down the controller even tougher than before. When done amassing trophies, a unique code included in every God of War Collection package grants exclusive access to the God of War III E3 demo.
The lack of cut-scene enhancement aside, the God of War Collection is a solid retrofit of last generation's best into this generation's technology. Each God of War title within is more than worth replaying without high definition graphics or trophy support and the perfect primer for God of War III early next year. If by chance you have never played God of War before then consider this Collection $40 well spent.
– Dan Bradley
Shop for the God of War Collection for PS3 at Amazon.com.