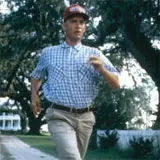 "You know Tom Hanks, 'Forrest Gump.' Slow, yes. Retarded, maybe. Braces on his legs. But he charmed the pants off Nixon and won a ping-pong competition. That ain't retarded." – Kurt Lazarus
Forrest Gump (1994) has transcended the realm of mere cinema to become such a piece of Americana that turning a critical eye its way is almost blasphemy. I remember seeing director Robert Zemeckis' (Back to the Future, Polar Express) Academy Award winning effort during its theatrical run and, while it was cute, wondering what all the fuss was about (and being even more miffed at stealing the Best Picture Oscar from Pulp Fiction). Revisiting Gump over the years on home video, the main character's absurd adventures have slowly grown on me. Now I can happily state that though I still have minor reservations, watching Paramount's stellar Blu-ray release was thoroughly enjoyable.
Admittedly the movie, even as beloved as it is, is a bit out there. The story of a man with an IQ of 75 whose kind heart compensates for his lacking intellect while meandering through a two plus decade quest to find happiness with his childhood love, Jenny (Robin Wright), seems like uncomplicated enough fare and well actualized Oscar fodder. Yet the fact that Forrest Gump (Tom Hanks) seems to haphazardly appear or fall into one highlight from American cultural history after another is where tried and true cinematic suspension of disbelief must kick in.
Whether giving Elvis his signature hip swagger, speaking at an anti-war rally with Abbey Hoffman or initiating the Watergate scandal, Forrest cluelessly excels. He wins the Medal of Honor for his bravery (actually dimwitted kindness by saving most of his platoon) in Vietnam, helps diplomatic negotiations with China through his uncanny ping-pong skills and gets in on the ground floor of Apple computers making him a millionaire. The characters seems to luck his way through whatever he attempts with the exception of finding closure with Jenny that is the true narrative core supporting all the historic phenomena.
A common criticism is that by making Forrest less than "the sharpest tool in the shed," the movie is poking fun at the mentally challenged or using them for cheap humor. I utterly disagree with this and will point to the lowbrow comedy of the Farrelly Brothers (such as Dumb and Dumber or Something About Mary, which I ashamedly enjoy) as an example of exactly that. Rather Forrest's inability to over-intellectualize life's circumstances accentuates the emotional context. For that matter, one of my favorite sequences is Forrest's inadequacy to cope with his feelings over Jenny's marriage proposal rejection that he sublimates by running for three years straight. This epitomizes the impassioned rawness by which Gump lives life.
In the final scene, little Gump Jr. (Haley Joe Osment) looks back while boarding the same bus his dad rode a quarter of a century before and replies to his father's expression of affection with "I love you too, Daddy." This is one of the film's simplest and purest moments being about as satisfying an emotional wrap-up as one could want tying together the legacy of Forrest's love for Jenny and his unwitting efforts to balance floating through life against making his own destiny (and along the way create enough catch phrases to be any marketing executive's wet dream). As much as I can nitpick some of the stretches of historical culture or a few sappy bits, it takes a really cynical person not to be touched on some level by this movie.
Forrest Gump, following Braveheart and Gladiator, is the third in Paramount's "Sapphire Series" with a deluxe two-disc Blu-ray set. Almost all the extras from the collector's edition DVD have been ported over though the "Through the Eyes of Forrest Gump Documentary" and Photo Gallery got left behind. Do not fret as over three hours of new HD content more than make up for the loss. The first disc contains the movie in stunning high-def and lossless audio with two commentaries and musical trivia track. The second disc houses the remainder of the ample supplements. The biggest deficit is in the archival DVD supplements that contain multiple entries (visual and sound effects, screen tests) where there is no "play all" option and it is a bit tedious to click through each one.
After the flack the studio received for the less than stellar visual bow of Gladiator on Blu-ray, there is no need to worry as Forrest Gump's 1080p AVC encoded transfer is marvelous. While not perfect, it is downright hypnotic with some of the better film-like quality I have seen in high-def and an almost consistent sense of dimensionality. The only detriments are a few night shots with washed out blacks and incidental print damage here and there (Braveheart suffered from this too). Cinematic quality shines through scene after scene with a gorgeously maintained grain structure, detail both close and far and colors that pop off the screen. I could ramble on but basically anything good about high-def is here with this being a prime example of how to bring a catalog title to life on home video.
The 5.1 DTS-HD Master Audio soundtrack is dialog heavy, strong and clean in the center channel, with an intermixing of Alan Silvestri's understated score and classic pop/rock tunes from the 50s, 60s and 70s that really come to life in the surround presentation with noticeable fidelity. There is a sporadic sense of rear channel presence for the first 20 to 30 minutes especially in the "Run Forrest Run" scenes, but I was so unprepared for the shit storm of lossless audio goodness that rains down (literally in the Vietnam rain scenes) during the jungle battle I about jumped off my couch. This segment is demo quality giving any action blockbuster a run for its money with resounding bass in all directions accenting gunshots and explosions that almost make you uncomfortable (in an awesome way). Equally noteworthy is the thunderstorm on the shrimp boat that puts you right in the middle of the storm. This is one quality soundtrack that perfectly compliments the outstanding transfer.
Dubbed audio is available as French or Spanish Dolby Digital 5.1 tracks with optional subtitles in English (SDH), French, Portuguese and Spanish.
Commentaries – Two tracks are carried over from the DVD edition. The first involves Zemeckis, producer Steve Starkey and production designer Rick Carter. The latter two were recorded together and edited in with the director which can be obvious at points. Zemeckis delivers detail after detail on multiple levels of production including extensive prep work, hurdles during filming and constructing the visual style. Starkey and Carter weigh in on casting plus strengths of particular actors in each role and set design respectively. Really good stuff and well worth your time.
The second is from producer Wendy Finerman who has a number of great anecdotes about production and gives her thoughts on what the film means and Forrest's philosophy. While a nice track, it suffers from seriously overlong gaps and almost makes me wonder if it would have been beneficial to edit into the first commentary (though that might have gotten a little crowded).
Musical Signposts To History (31:34, HD) – This feature has three settings (auto – plays when song shows up, manual – use remote to activate when icon on screen, selective – choose specific or play all). There is an introduction (3:54) with former Rolling Stone editor Ben Fong Torres, Zemeckis and musical supervisor Joseph Sills plus input from Michelle Phillips (The Mamas and the Papas), Roger McGuinn and David Crosby (The Byrds) and Ray Manzerek (The Doors) then shorts clips where the participants all expound on the use of all 45 American rock music classics in the film. The selective "play all" option is a great way to watch this intriguing feature.
Greenbow Diary (25:59, HD) – Presented as a visual diary from the perspective of someone on set during shooting, key sequences are analyzed including the shrimp boat, the Gump house, singing in the church choir, carrying Bubba from the jungle in Vietnam, playing ping pong with no ball and the bus bench in Savannah. Interesting is that the Gump house did not already exist and was built for the movie and all of the film's voiceover was actually filmed on that bus bench. They used the video when necessary and the audio for the narration.
The Art of Screenplay Adaptation (26:58, HD) – Here we get a fascinating look at the effort to adapt Winston Groom's novel and sell the script to a studio. The author wrote the initial treatment that was rejected for being too faithful. In the book, Forrest was not the loveable goof we get in the film, neither his mom nor Jenny play that big a part, he never got married or had a kid and ended up broke living on the street. Though there was an orangutan as a companion (kinda glad that did not get filmed). Several producers detail the effort to get a studio interested in such an "out there" tale plus Eric Roth, who wrote the final draft, chimes in on his craft and inspirations for the story.
Getting Past Impossible: Forrest Gump And The Visual Effects Revolution (27:04, HD) – It may be hard to appreciate these days with every other blockbuster having visual effects that stir the imagination, but Gump was on the cusp of the digital revolution in CGI work and the first film to have humans not just be placed in but interact with archival footage. Visual effects supervisor Ken Ralston along with others involved in the effects work cover how groundbreaking Gump's efforts in that realm were with breakdowns of the bluescreen work and the use of rotoscoping (digitally cutting out part of an image to interject into another). They go over how Lt. Dan's amputated legs were constructed, replicating crowds (such as at the Lincoln memorial) and that the particular archival footage was chosen not by what historical moments they wanted but rather by which were easiest to use with the existing technology of the time.
Little Forrest (14:48, HD) – We catch up with Michael Conner Humphreys who played young Forrest and is now an adult in his 20s. Hanks comments how he could not get the vocal patterns decided for Forrest until they cast the eight year old who had a unique southern cadence they mimicked for the adult accent. There are screen tests and some great joking around on set moments with young Humphreys.
An Evening With Forrest Gump (55:08, HD) – In April of 2009, Robert Zemeckis, screenwriter Eric Roth, Gary Sinese and Tom Hanks gathered at the University of Southern California for an open discussion of Gump. This flows much like the "Inside the Actor's studio" presentations with intriguing talk about expected topics including adapting the book, visual effects, efforts to get the film made and shooting anecdotes. Great for fans.
The Magic of Makeup (8:03) – Make Up Artist Dan Striepeke covers how he dealt with aging the characters over the course of the film along with screen tests of actors in make up.
Through The Ears Of Forrest Gump: Sound Design (15:34) – Sound designer Randy Thom covers how the awesome audio was constructed for the following scenes: Bike, Crowd, Vietnam, Rain and Ping Pong. This goes along well with the look into the visual makeup of the film.
Building The World Of Gump: Production Design (7:18) – Production designer Rick Carter briefly details choosing locations for shooting and building needed sets.
Seeing Is Believing: The Visual Effects Of Forrest Gump (30:03) – Visual Effects Supervisor Ken Ralston fills us in on several sequences including some that did not make it into the film (Martin Luther King Jr., George Wallace, Richard Nixon, Vietnam, Ping Pong, Dick Cavett, etc). This overlaps a bit with the related HD extra though only covers particular scenes with no overarching history of the subject.
Screen Tests (9:12) – Screen Tests from Michael Conner Humphreys and Hanna Hall (these were included in the Little Forrest extra), Robin Wright and Haley Joel Osment.
Trailers (5:10, HD) – The theatrical and "Remember" trailers in HD.
Forrest Gump is not among my all time favorite films, but it has been slowly growing on me over the years. You can nitpick the overly saccharine moments or the absurd journey through our cultural history, but you would be spending energy that should be put to enjoying the heartfelt performances. Those that have been sold on Zemeckis' direction and Hank and crew's acting know what I mean.
Paramount disproves fears of substandard quality HD video quality with Gump being impressively more "Braveheart" than "Gladiator." This is really one solid Blu-ray package with a/v merits that show what catalog titles are capable of and a supplemental bundle that includes intriguing new features all in HD plus most of the older standard-def extras. Fans of the film will have no reason to complain and every reason to make a purchase.
– Robert Searle
Shop for Forrest Gump: Sapphire Series at a discounted price from Amazon.com.