FIFA 14 PS4 Review: A Header in the Net
Admittedly, I didn't know too much about soccer/futbol until a few years ago. Everything I learned of the sport, I learned playing EA's World Cup 2010. It's not the first time that a video game has been instrumental in teaching me about a sport. It's actually how I learned about hockey back in 1992 with NHLPA '93 for the Sega Genesis, and now I'm a NHL season ticket holder and self-proclaimed super fan.
Since 2010, I've played EA's FIFA series with more and more knowledge of how the game flows, how to score goals against tough keepers, and generally how to tackle without getting the dreaded red card. I even follow a few clubs now, and am hotly anticipating next year's World Cup in Brazil.
So, when I say that FIFA 14 for the PS4 is the best soccer/futbol game ever made, you can take that from someone who knows the sport, but is still growing in his admiration for the athletes and the skills needed to play. And don't get me wrong; I'm not trying to downplay my assessment. FIFA 14 is the best soccer/futbol game ever.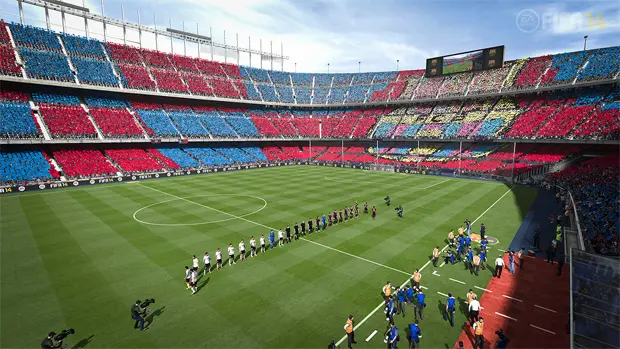 A far, FAR cry from the ugly, insulting player models in
NBA Live 14
,
FIFA 14
is a sight to behold. The new IGNITE engine was designed specifically for this game by EA Canada, and the results are mesmerizing. Players move, react, and look like real live human beings. With new tackle animations and new ball physics,
FIFA 14
has never looked or played more like a real game of soccer. Lionel Messi is once again the cover athlete, and in-game he looks just as lifelike as he does on the box. But not to be outdone, Clint Dempsey and Eddie Johnson from my Sounders (yes, I have all these clubs to choose from all over the world, and I choose the MLS Seattle club. Don't judge) looks just as realistic and lifelike, so the graphic love isn't just reserved for the superstars. EA Canada and their artists have truly outdone themselves in the next-gen and the PS4 presents these wonderful graphics in native 1080p and 60 FPS.
On top of excellent player physics and animations, the ball now adheres to realistic physics. It'd be easy to use a "bend it like Beckham" joke here, but it's not necessary. I can bend it as much as I want to with the amount of control afforded to me by the DualShock 4 controller. It's an amazing feat to create on-field physics like this.
Before a match, the player can adjust the time of day in half-hour increments, which means that the ambient lighting effects of day turning to night in a late afternoon match are wonderful, and the shadows on the pitch even change to correspond from the shift between sunlight and stadium lights.
Crowd animations, which got a welcome overhaul in the
Madden NFL
series, are near perfect. Score a goal at a home stadium, and the place will rock. Literally. EA Canada actually shakes the screen when the camera pans over the crowd, which in turn fuels me, as the player, to keep attacking.
There are over 60 stadiums from around the world and more clubs to choose from than any sports game should be allowed to have. To put it simply, there is a ton of content packed onto the disc. FIFA Ultimate Team (FUT), which started in this series and has now spread to all EA Sports games, is back with some refining tweaks to balance out the gameplay. It's fun to build a team from cards and take them online, but buying new packs uses real money (or you can earn coins by playing, but it would take forever to actually earn enough to build a powerhouse team). Because of that, I'm stuck with a team of 60 level players and one 75 guy. Chemistry is important in FUT, and the mode takes into consideration things like player satisfaction in their position, to even proximity to players on the pitch from the same country. It's tough to manage all of this, but it adds levels of complexity to the game and fans eat it up year in, and year out.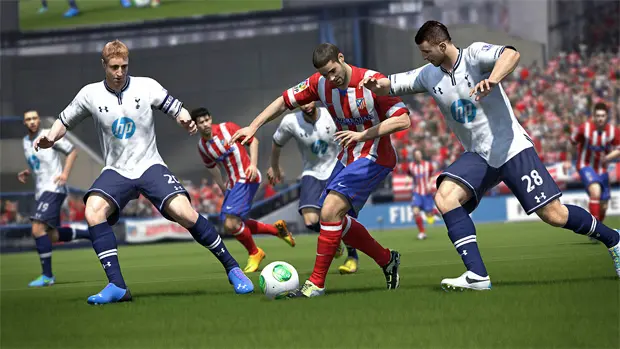 The soundtrack and commentary are both the best in any EA Sports title, as the announcers just sound like they are actually calling a real game. I've heard some things repeated, which is to be expected, but the conversational tone and the run down of the events that I have control of on the pitch makes this THE sports game that all other sports games should aspire to in the terms of in-game commentary.
The music selection is incredible, stocked with almost 30 tracks by established and up and coming acts in all styles of music. The music primarily plays over the menus and during the skills challenges, and it's a welcome part of both.
As a complete package, FIFA 14 is as perfect of a sports game as you can get. EA Canada truly caters to its fans, and once you play it, you quickly realize why it's the best selling sports game in the world.
On the PS4, everything seems ramped to 11, and the IGNITE engine–when used as it was intended–is a revelation. The gameplay is smooth; the game is fully featured with season play, online leagues, FUT, and simple matches.
FIFA 14
offers so much, and a player profile XP system gives more reasons to pop on a play a match.
FIFA is a series that has been around for years now, but this is the first next gen version. I don't see how this game could get any better, but I said that about FIFA 11 and look at where we are. The fact that this can get better is scary. I wish the rest of EA Sports' family of studios were paying attention, because FIFA 14 is how you make the most compete sports title. I'm still a new fan of soccer/futbol, relatively speaking, but games like FIFA 14 make it a good time to really enjoy the sport.
FIFA 14 was played on PlayStation 4 for this review and provided by EA Sports. It was released on November 15, 2013 for PlayStation 4, and on November 22 for Xbox One.
TheHDRoom may be paid a small commission for any services or products ordered through select links on this page.