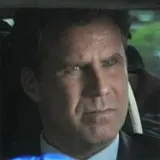 The plot of Everything Must Go seems extremely simple. Will Ferrell plays Nick, a somewhat-functional alcoholic who loses his job and is ditched by his wife – who tossed all of his possessions onto the front lawn and changes the locks before leaving – in the same day. To avoid being jailed for literally living on his lawn, Nick is forced to exploit a city ordinance that allows him to hold a yard sale for no more than five days.
It's a plot device that could be used for cheap laughs in one direction and mawkish melodrama in the other.
But Everything Must Go, and its rookie writer/director Dan Rush, is better than that. In fact, everything about this movie is better than that.
It's a truly complex and layered look at how we are all the masters of our own destinies, to use a massive cliche. It would be easy on one hand to say that Nick's life choices have resulted in him bringing a miserable life upon himself, and it would be just as easy to sympathize with his plight.
Everything Must Go is a true study in ambiguity. It's one of the finest marriages of tragedy and comedy to have been released in years. But as real and relatable as the story is, it would be a sore injustice to write the picture off as a mere slice-of-life.
It would be easy to sit down and simply write a story about an alcoholic whose life sucks. Pick up a newspaper or call a buddy with a drinking problem, and you'll find someone whose life has hit absolute bottom. It wouldn't be so easy, however, to make that story engaging.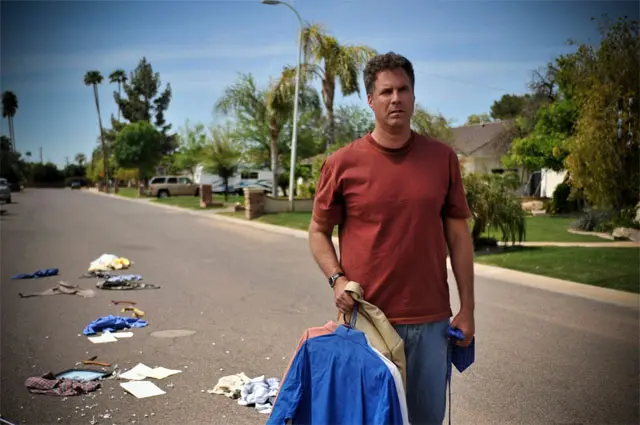 Rush has written an exquisite script with a soul and an exceptionally layered and tight structure. There isn't a single line in the movie that's played for either an easy laugh, and there are no moments that are artificially constructed to elicit emotion from its audience. It's real in every sense of the word.
The most visible gem in this picture, however, is Ferrell himself. In a world where fellow comic actor and Saturday Night Live alum Bill Murray has built a second career on dramatic roles, Ferrell's turn as Nick in Everything Must Go has, for the most part, gone unnoticed.
Other comedians have tried (with varying degrees of success) to jump into more serious territory, and, for the most part, failed because they've tried too hard. They force emotion and wind up coming off as false.
Ferrell has figured out a secret that's simple in concept and difficult in execution: He inhabits the character.
At no point in Everything Must Go will you see Will Ferrell. In every frame, he is Nick. It isn't method acting. Ferrell delivers a stirring performance by just being the character rather than acting like the character (there is a subtle difference).
Take, for example, a particularly heartbreaking scene in which Ferrell seeks out an old acquaintance who wrote some kind words in his high school yearbook (Laura Dern, who makes the most of a mere six or seven minutes). Not a tear is shed, but Ferrell's body language and the tone of his voice communicates Nick's embarrassment at the absurdity of the situation. He's the very picture of a man whose life is falling down around him and who wants desperately to believe that he's getting by.
There are other great performances in the film. Of particular note is Rebecca Hall, who plays Nick's new neighbor, Samantha, and young Christopher 'C.J.' Wallace, who portrays a young boy who Nick drafts into helping him with the yard sale.
There's also the always-great Stephen Root, who delivers the most outrageous life of the movie by… well… let's just say Root takes it all the way.
Even the cinematography is brilliant. Director of photography Michael Barrett makes great use of handheld shots to highlight the unbearable but enjoyable awkwardness that permeates the film.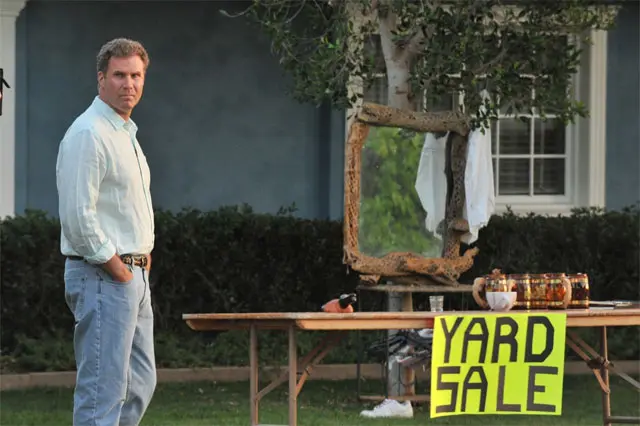 High-Def Presentation
Lionsgate brings Everything Must Go to Blu-ray with a crisp MPEG-4 AVC 1080p transfer with very little noise. There are a few blips on the radar during the film's many night-time scenes, where blacks are somewhat poorly-defined and images lose quite a bit of depth. And while the imagery and locations are both gorgeous, the angles chosen let in a great deal of sunlight, rendering several shots distractingly-soft.
In the audio department, Lionsgate scores again with another lossless 5.1 DTS-HD Master Audio track. The fact that the film is shot predominantly outdoors, one would expect an overabundance of ambient noise from passing cars or chirping birds. However, the mix zeroes in on just enough real-life noise and sound to make the world believable.
Beyond the Feature
Everything Must Go only features three special features, but they pack quite a bit of punch.
Audio Commentary with Rush and actor Michael Pena – Rush and Pena (who plays Frank, Nick's Alcoholics Anonymous sponsor) have a great rapport with one another and exude a great enthusiasm and affection for the film, making for an engaging and fascinating listen. It's one of the better commentary tracks I've heard in recent years.
In Character with Will Ferrell (8.5 minutes) – Ferrell discusses the welcome challenge of taking on a role with more gravity and complexity than he's accustomed to. Again, Ferrell's enthusiasm for the role is contagious and makes his glimpse at both what makes Nick work and what helps him make Nick work a genuinely interesting look at the actor's process.
Behind the Scenes (10.5 minutes) – This feature is short in length but packs quite a bit of information on the film's roots (Rush adapted the screenplay from the short story "Why Don't You Dance?" by Raymond Carver), the relationship between Rush and the cast, and an interesting look at the production design.
If there's anything to complain about regarding the bonus features, it's that the sparse seconds about production design in the Behind the Scenes feature weren't enough. The look of Nick's lawn is essential to the film and certainly warranted at least five minutes unto itself.
Film is one of the few art forms remaining in today's world that can truly show us the shades of grey that make up our lives without either mocking them or overdramatizing them. Everything Must Go could easily have done both but instead strikes a balance that results in one of the better dramadies of the last several years.
Shop for Everything Must Go on Blu-ray for a discounted price at Amazon.com (September 6, 2011 release date).