Eddie The Eagle Review: I Believed He Could Fly, Then And Now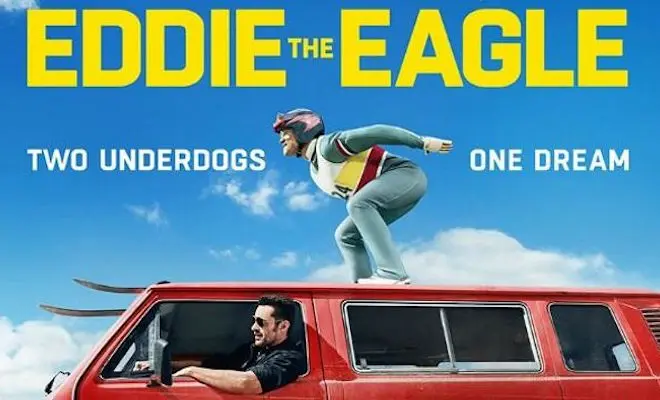 I remember Eddie "The Eagle" Edwards. In 1988, he was an absolute sensation, and his quest to participate in the Olympic Winter Games captivated the world. He was the perfect underdog. He looked the part, wearing his eyeglasses underneath his ski goggles. He was stocky, and not lean like the swiss jumpers. He had a terrible mustache that endeared him to the everyman, not only in his home of Great Britain, but around the world. Eddie the Eagle was a hero to so many, even if he never won an actual medal. And now, his story is a feature film.
Eddie The Eagle stars Taron Egerton (Kingsman) as Eddie, the son of a plasterer (Keith Allen) who dreams of being an Olympian, and has since he was 10-years-old. Eddie is not not particularly good at any of the summer sports that he tries, but one day, while going to the job site with his father, realizes that maybe his way into the Olympics is through the Winter Games as a skier.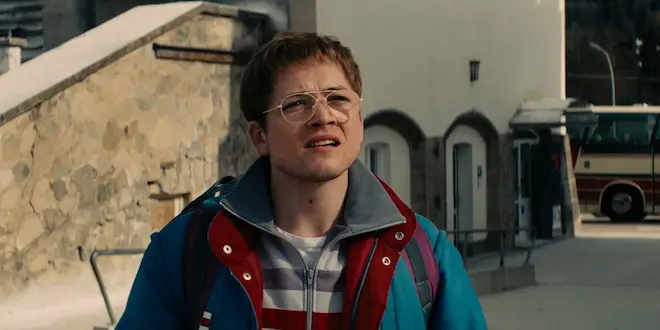 The problem is, he's not the best skier and he doesn't make the team. Eddie then does his due diligence and discovers that Britain lacks a ski jumping team, so he sets out to become Britain's sole ski jumper. With the support of his mother (Jo Hartley), Eddie travels to Germany to try and learn from the best, but quickly discovers that he may be over his head.
Ever determined, Eddie pushes on, not letting any obstacle stop him, and with the help of a faded — and fallen U.S. ski jumping star in Bronson Peary (Hugh Jackman), Eddie learns what it takes to fly, both on the ski jump, and in life.
While Eddie The Eagle is not the most original movie — I mean it follows the formula that one would expect from a film like this, complete with a montage set to '80s music — the film soars in the message that we are only as grounded as our dreams. And even though viewers who remember the real Eddie knew how the film was going to end, the journey to get there was simply inspiring and joyful.
Taron Egerton loses himself in the role of Eddie, replicating the real life Olympian's quirks and mannerisms. It was an incredible performance, and Egerton carries the role — and the film — splendidly. Hugh Jackman is serviceable as Peary. While there is nothing special to speak of about the role or the character, Jackman does bring some name recognition to this wonderful film, and save for Jim Broadbent, and a small role for Christopher Walken, the cast is not very recognizable, which works in a production like this. I particularly enjoyed Jo Hartley's performance as Eddie's mother. Her love and support at all times transcended the screen and inspired me to want to be more with my life. Outstanding.
Eddie The Eagle is one of those rare films that is so formulaic that you can predict each act before the title card flashes, and it doesn't even matter. Director Dexter Fletcher and screenwriters Sean Macaulay and Simon Kelton have crafted here a definite hero's journey, one well worth taking. Eddie had a dream and he would not let knocked knees, or the lack of any true skill stop him. He let that dream power him through life, never giving up, never surrendering, even after those were his only options.
The story of Eddie The Eagle is as inspiring now as it was then, and the film does a wonderful job of relaying that story, and quite possibly will inspire others to chase their dreams, no matter what. I watched Eddie The Eagle fly, and I'm now inspired to believe that I too can fly. And that is possible the greatest compliment I can give this film.
Eddie the Eagle in PG-13 and opens on February 26 nationwide.
TheHDRoom may be paid a small commission for any services or products ordered through select links on this page.