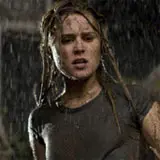 Sam Raimi's Drag Me to Hell harkens back to the filmmaker's early pre-Hollywood years that produced The Evil Dead and its hilariously gross sequel, Dead by Dawn. Only this time the hero is an inferior heroine, CGI intermingles with practical effects, and the desire for a sequel is noticeably absent.
Replacing Bruce Campbell as the unfortunate target of demonic forces is Alison Lohman as a bank teller who shoos off a crotchety rotten old gypsy woman begging for a loan extension in favor of impressing her boss for a promotion. The decrepit gypsy then places a curse on Lohman who must then spend the rest of the film fighting off a series of gruesome supernatural attacks prefaced by a shockingly aggressive confrontation in a parking garage leading to the hexing moment.
Though Raimi plays parts of the gypsy woman brawl for comedy and others for thrills, each ensuing nightmare-come-true Lohman experiences is more over the top and laughably absurd than the last. Campbell would have had a field day reacting like a lunatic to opening his mouth wide for worms, a possessed goat, and having all manners of liquids explode in his face. Yet Lohman plays the similar role with a passiveness that only gives way to any sort of resilience and spunkiness when she senses her end may be near. Her performance is too grounded in reality to mesh with Raimi's slapstick brand of driving someone mad by forces beyond the grave.
There are plenty of nods to The Evil Dead in Drag Me to Hell with tilted stalking cameras, comical mutilation and adolescent giddiness over what could possibly harm the hero next. Raimi likely had a blast co-writing and filming it and should be commended for feeding his core fans what they want in between big budget Spider-Man flicks. But without Bruce Campbell, Drag Me to Hell is only a shell of its inspiration that evokes enough nostalgia to take notice but not enough intangible charm to be dragged through again and again.
Drag Me to Hell arrives on Blu-ray Disc with the slightly longer theatrical cut and a new director's cut, each presented in 2.4:1 AVC-encoded 1080p video. A subdued color palette is draped over the film from start to finish, interrupted only by the burning flames of hell which pop off the screen in bright reds and orange as a reminder that there is nothing wrong with the transfer. Once looking past a natural flatness as a result of the desaturated palette, detail is strong enough to pick up every crack in the gypsy's rotten teeth and all the dirt caked into her fingernails. Black levels hold strong with only a few minor exceptions. The overall high definition video presentation is not one to remember but does seem to appropriately capture the director's intent.
Universal's signature 5.1 DTS-HD Master Audio treatment is simply outstanding applied to Drag Me to Hell. There is no shortage of screaming, loud banging, creaky floorboards, and all out mayhem that pour out from every speaker and fill the room to the brim with noise. Directional effects are well placed to accentuate an encroaching threat and build suspense, while dialogue remains clear with minimal drowning during scenes of high aural intensity.
D-BOX Motion Code
D-BOX in Drag Me to Hell is a series of big events rather than a sustained effect throughout the film, beginning during the opening scene with a natural jump scare that D-BOX amplifies about 10-fold with the accompanying chair movement. This is the only real "true" scare not played for humor throughout the film which is unfortunate, but it does kick D-BOX off on the right foot.
Each of the haunting sequences offers their own D-BOX experience from the violent jolts of the brawl between the gypsy and Alison in her car to the more subtle movements splashing around in a flooded dug up grave. One scene in particular takes D-BOX to a new level of excitement and should not be missed.
In perhaps the closest scene mirroring The Evil Dead, Alison is chased through her home by a demon and eventually into her bedroom where she runs out of room to run. Once the demon catches up, Alison is hoisted into the air and spun around the room like a rag doll. To translate this scene to D-BOX, the Motion code simultaneously delivers a mix of circular movement with heavy vibrations. The sensation is unique and makes the scene on-screen all the more immersive to witness.
Drag Me to Hell's bonus features are nearly non-existent with requisite bookmarking and BD-Live connectivity making up two-thirds of the offering. The other third is by no means throwaway material, but direct involvement by Raimi in the features is sorely missing.
Production Video Diaries (35:08, HD) – Justin Long introduces a series of nine video diaries that traverse through several scenes and the key actors in them. The name is deceptive; this plays more like a behind-the-scenes featurette with anecdotes, interviews and a sneak peek into the production taking up most of the half-hour running time. Tricks used to achieve the practical effects such as a massive nose bleed and stapled face are dissected, while the infamous "goat" proved to be almost too loveable on the set.
Sam Raimi's horror encore with Drag Me to Hell makes for a fun Blu-ray release with the filmmaker's unique horror style being buoyed by exceptional audio and a faithful, though not eye-popping, video transfer. Extras are slim and the desire to replay debatable depending on personal taste as most either love or hate Raimi's style. Best to rent this delirious journey into hell on earth before taking the plunge for real.
– Dan Bradley
Shop for Drag Me to Hell on Blu-ray at Amazon.com.