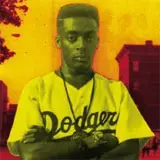 "It's the hottest day of the summer. You can do nothing, you can do something, or you can…"
Do The Right Thing (1989) was Spike Lee's third film that actualized the promise the writer/director hinted at with his first two efforts, She's Got To Have It (1986) and School Daze (1988). While Spike's polemics (both onscreen and in the media) may sadly overshadow his talents as a filmmaker, even those predisposed not to like the often polarizing director should put aside their prejudices to give this incendiary classic, which is arguably still his best, a chance.
As the tagline states, the story is told on the hottest day of summer (effectively portrayed through Ernest Dickerson's color psychology themed cinematography) within the confines of a single, yet bustling, block of Bedford Stuyvesant (or Bed-Stuy for short which is a neighborhood in Brooklyn also featured in other Lee "joints" such as Crooklyn, Clockers and Summer of Sam). The film engages, sporadically at times, over a dozen eclectic characters (Ozzie Davis as "Da Mayor," Bill Nunn as "Radio Raheem" and Ruby Dee as "Mother Sister" are stand outs) and their concerns of the day (many echoing Lee's interests such as interracial interactions and socioeconomic realities) though Mookie (Spike Lee) could be considered the unifying personality. His delivery job for Sal's (Danny Aiello) Pizzeria has him traverse the neighborhood acting as an element that connects the "mini worlds" of the engaging inhabitants that comprise the visual and thematic narrative (It can be noted that while the most prominent portrayals in the movie take adversarial stances, Mookie is often seen as more neutral. Though he obviously succumbs to the heated fever panic in the finale and has a pronounced responsibility in how events play out).
While the mercury rises, so do the tempers in the neighborhood. No one has air conditioning, and the constant dripping of sweat, soaked armpits and waves of heat distorting the air make you exhausted just watching from the comfort of your couch. Bed-Stuy is shown as a mix of ethnic backgrounds (Black, Hispanic, Asian) and, according to Sal's comments about crime, seemingly having degenerated from what was once a more upstanding community. Sal and his two sons who run the pizzeria are of Italian descent and refuse to abandon their residence on the block (well, the oldest son Pino (Jon Turturro) would love to break out and has no problem often rudely saying so). When certain patrons take umbrage at the numerous pictures of "Italian-Americans" (Pacino, Deniro, Sinatra, etc) on the wall not including any "brothers," this sets the stage for the provocative, racially infused conflict that ties the threads of the story together with tragic consequences.
Lee is known for pushing racial issues (inequality of blacks in society, history of civil rights, interrelations of ethnic groups, etc) in his films. Some are well made (Get On The Bus), yet the polemic still comes off too obvious which makes for an ultimately uneven product. Others are just outright disasters (Bamboozled) with the director's intentions being lost in incoherent filmmaking. At the same time, titles such as Summer of Sam (1999) or 25th Hour (2002) are well executed and have no obvious racial agenda to pursue.
With a diverse portfolio consisting of over 40 works for cinema and television, it is a wonder to look back at Spike's third film 20 years later and realize he has yet to top it. What makes Do The Right Thing an outstanding success is how Lee weaves his social concerns inherently into the narrative while still maintaining commendable drama, humor and human interest through the interactions of the dozen or so well defined characters. Also utilized are a wide variety of shooting techniques (along with Dickerson's excellent and previously mentioned cinematography) to convey his unique perspective including non-ordinary camera angles, various montages and having characters break the fourth wall (most memorably in tirades of racial slurs), none at the expense of the overall presentation.
Fans of Spike Lee know what a gem Do The Right Thing is, and film lovers that have avoided it due to perceived notions about Lee's agenda or the backlash against some of his public statements or lesser works owe it to themselves to give it a chance. Though he pulled it off early in his career and has rarely come close since, Lee managed to be simultaneously provocative and entertaining while not preaching to the choir or beating audiences about the head with a heavy-handed moral (though the flick can spark heated debate). Bottom line: this is a great film in its narrative and visual composition that also has something meaningful to impart. It is as absorbing now as it was 20 years ago.
Previously Criterion's 2-disc DVD set was the best home video incarnation of this title, but it has now been topped by Universal's 20th Anniversary Blu-ray edition. The video and audio are both a major step up, and the majority of the extras from that set (it is nice to see Criterion is not hoarding the company's generous extras) are carried over with a new commentary and two new HD supplements.
Universal's VC-1 encoded 1080p transfer for Do The Right Thing is a thing of beauty. So often films from the 1980's look passable at best when given the high-def treatment due to less than stellar source material, but the 1.85:1 framed image proves that with the right ingredients (Ariflex Cameras, print processing by DeLuxe and, of course, Dickerson's cinematography) even 20 years is not too old to discover a stunning HD image. The best compliment to give this Blu-ray is that the picture has a natural film-like quality supported by a modest sheen of grain. Detail is abundant (the sweat on everyone just makes you feel sticky), colors pop off the screen, blacks are solidly rendered and no obvious digital tampering or compression artifacts are noticeable.
There are a few shots that seem soft juxtaposed to the overall presentation, yet they are minor and most likely due to shooting choices. Also very minute specks can be randomly spotted on the image, but they will not impinge on your enjoyment of the movie in the least. There is one thing that should be mentioned that I would not have been aware of (though many fans may notice more easily than myself) had I not pulled out the Criterion DVD to do a comparison. As expected the Blu-ray trumps the DVD in most every visual category possible (and the Criterion was top notch in its day). However, the color timing has been changed for the Blu-ray transfer as the DVD has an accentuated golden, almost orange at times, hue pervading the image that is highly minimized here.
After doing a bit of online research, it appears for some unexplained reason Universal removed the filter that gave the Criterion its distinctive coloring. The cinematographer approved the DVD transfer, so some may say the Blu-ray is not the most artistically faithful presentation of Spike's film. You will have to make up your own mind, but for my tastes this is a gorgeous image. Time will tell if this alteration is as controversial as what Anchor Bay similarly did to Halloween on DVD and BD, but I welcome this beautiful, even if potentially bastardized in the eyes of purists, high-def transfer into my collection.
As often as I bemoan a studio repurposing a mono or stereo mix for surround use with less than stunning results, I have to give credit when it is due. The English DTS-HD Master Audio 5.1 surround track (48 kHz / 24-bit) provided on this Blu-ray works very well. Dialog is rock solid, and while not as busy in the rears as today's action soundtracks, there is a surprising amount of activity moving through the surrounds that embodies the ambiance of the busy life on the block where the movie is set. And do not forget Public Enemy's "Fight The Power" that is the repeated theme song of the flick. It puts all six channels to work admirably. The score, composed by the director's father and featuring Wynton Marsalis, is also given a very competent rendering. This is a prime example of how to upgrade a catalog soundtrack and bring it into the high-def age.
The original stereo mix is not included so purists may take qualms with that. Dubbed audio is presented in French and Spanish DTS 5.1 surround tracks with subtitles in English (SDH), French and Spanish.
Feature Commentary – This commentary was originally recorded for the Criterion laserdisc in 1995, later included on the company's DVD edition and is brought over for Universal's Blu-ray. It includes input from Spike Lee, Ernest Dickerson (director of photography), Joie Lee (Spike's real-life sister who portrayed Mookie's younger sister) and Wynn Thomas (production designer). The participants were recorded separately while Public Enemy's Chuck D does hosting duties to tie the threads together.
While it is obvious that the track was constructed, each participant offers many interesting tidbits of information and there are very few moments of silence. If there is a common theme, it is each person reflecting upon his or her experiences during filming and the impact the film had upon release. I found Dickerson's comments to be the most fascinating expounding upon how he constructed the look of the film (I wonder what his thoughts are about the changes to the color timing on the BD).
20th Anniversary Commentary – Showing his commitment to the film that brought him to cinematic prominence, Lee recorded a new commentary for the anniversary home video release. He openly admits that it has been some time since he has watched the film and unlike the previous commentary, there are noticeable gaps in the narration. While there are moments of interest here, this track often seems redundant and easily falls into the shadow of the Criterion produced commentary. Hardcore fans will find morsels to keep them listening but if you only have time for one go around, give the older track a shot.
Do The Right Thing: 20 Years Later (35:47, HD) – A number of the original participants including cinematographer Ernest Dickerson, Rosie Perez, John Turturro and Chuck D are interviewed by Lee and recount their making of the film. It is nice to see Lee joking around with his interviewees as he so often comes across overly serious. While by no means as comprehensive as the documentary footage previously included, it is intriguing to see how everyone recounts their involvement two decades later and amusing how Lee and participants often differ about significant details.
Deleted/Extended Scenes (14:14, HD) – 11 scenes (with a play all option) are newly included for the BD. These have been mastered in high-def but notable print damage is still detectable. While there is nothing really wrong with these additions and they are intriguing from a supplemental context, I can easily see why they were cut.
Behind The Scenes (57:59) – Lee and his brother, who is a cameraman, shot videotape footage over the course of the original shoot during the summer of 1988. It covers pre-production work, interviews and rehearsals with the main actors, and even a deleted scene. There is talk with the casting director about choices of certain actors and coverage of the wrap party where everyone is in good spirits (Lee most notably). This is very informal yet interesting content for fans.
Making Do The Right Thing (1:05:49) – This intriguing documentary film (broken into 10 segments with play all option and intro from Lee) by St. Claire Bourne is an excellent companion to Spike's "behind the scenes" look at shooting the film. Definitely no fluff piece, this follows the whole production with many in-depth segments. Topics touched upon are talks with the real Bed-Stuy community (many got small jobs on the set), building and tearing down the set (several unsuspecting people apparently tried to buy pizza at Sal's), rehearsals with all the main actors, shooting on the set, filming a one day story over eight weeks, actors explaining their characters, an interview with prominent black filmmaker Melvin Van Peeples while on set, and the real life inspirations for the events of the film.
Editor Barry Brown (9:38) – Four segments (with play all option) with the editor giving anecdotes and background on how he and Lee got involved. Brown originally was not an editor (except on self directed work) and Lee "coerced" him into working on his films.
The Riot Sequence – Storyboards of the riot scene that you navigate with the directional buttons on your remote. Most interesting is an intro by Lee where he gives context to the content and states how he shies away from storyboarding his movies as he wants to avoid enforcing too much structure but felt it was necessary for this sequence.
Cannes, 1989 (42:22) – A videotaped panel discussion from Cannes taped a month or two before the film would release in the States. A number of major actors from the film are present though Lee fields the majority of the questions. Video quality is fairly poor and the tone is somber but the details are very absorbing. There are many questions/answers dealing with Lee's perspective as a black filmmaker.
Trailers (3:14) – The trailer and two tv spots with very poor video quality.
BD-Live– The disc is BD-Live enabled (profile 2.0 player required) but as of this writing, there is no content exclusive to this movie.
Spike Lee has often been a controversial filmmaker throughout his career, and Do The Right Thing is the best example of him pushing buttons in the subtlest of ways. He imbeds his agenda into an excellent film brimming with comedy and drama that culminates in a literal and thematically incendiary finale that has been stirring up tempers and conversation for two decades. While I am growing increasingly skeptical that the director will ever be this cohesively effective again, we can always appreciate the instance when he balanced all his concerns into an excellent production.
Universal turns out an outstanding Blu-ray package for the 20th anniversary of Do The Right Thing. I am guessing there will be concern among some that the studio may have screwed up the transfer by altering the color timing. While that remains to be seen, the transfer delivered is gorgeous, and not just for a 20 year old film. The audio has been upgraded in commendable fashion taking advantage of lossless encoding and surround use. Topping off the package is an inclusive selection of extras that cover most anything you could want, and much you may not have realized you would want, to know about the film.
– Robert Searle