Disney's Big Hero 6 Review: Easily One Of The Best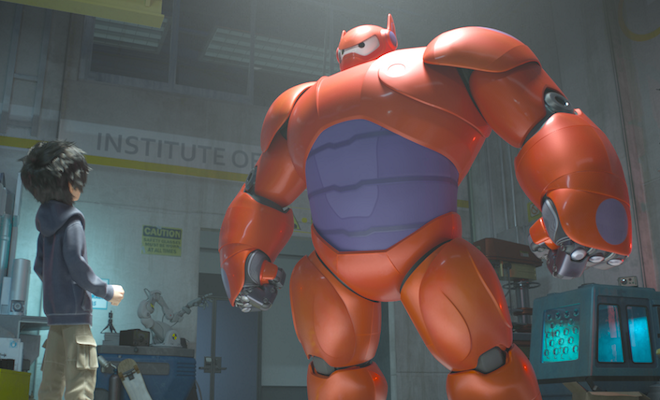 When talking about Walt Disney Studios' animated films, there is a short list of classics that have stood the test of time. Some had songs written by academy-award winning composers and grammy winning lyricists, others had great scripts that appealed to both kids and adults, voiced by top notch talent and directed by masters of the craft. But the one thing that all the classic Disney films had in common was a timeless story with heart and humor. Stories that made us laugh and cry and feel. Truly feel. Heck, it was almost a Disney trademark.
In Big Hero 6, Disney has once again shown that it can tell a story with heart, all the while taking the audience on an incredible journey as a young boy finds his path in life and a superhero team is brought together to face a terrible threat, and to save the futuristic city of San Franokyo.
Hiro Hamada (voice of Ryan Potter) is a boy genius robotic engineer who uses his skills in illegal robo-fighting. His brother, Tadashi (voiced by Daniel Henney) attends a local university and builds robots meant to help the world. Tadashi wants his brother to use his exceptional gifts to get an education, and works to help Hiro impress the school's founder, Robert Callaghan (voiced by James Cromwell). Hiro creates a new project so unique that he draws the attention of a Callaghan rival, Alistair Krei (Alan Tudyk), and then a terrible accident changes everything. Hiro is now alone, and without focus, left with only his brother's greatest creation, a healthcare-providing robot named Baymax (voice by Scott Adsit), and Tadashi's college friends, Hiro discovers a terrible secret as a villain begins to rise, seeking revenge on those who wronged him, and using Hiro's technology to do it. This forces Hiro to bring together a team of equal-minded geniuses to use their skills and talents to make the world a better place, and fulfill his brother's wishes.
The voice cast is round out by the always delightful T.J. Miller as Fred, Damon Wayans, Jr. as Wasabi, Jamie Chung as Go Go, Genesis Rodriguez as Honey Lemon, and Maya Rudolph as Aunt Cass. The voice acting is incredible, with Miller stealing the movie with every scene that he's in. Miller's Fred is the fanboy in all of us, and the audience experiences the fun and wow factors through his child-like eyes. Scott Adsit's Baymax is also a standout, and most of the laughs come not from his lines as written, but when he says them and how. Baymax may become the next great Disney character.
Big Hero 6 is mis-packaged as a "boy and his robot" story, but in reality, it's much closer to say, Marvel's The Avengers in the story's tone and structure. Maybe because the property is based off a Marvel comic book series of the same name. But unlike the popular live-action Marvel films, Big Hero 6 still has the classic Disney feel in the beautifully rendered CG animation and character models, particularly of the film's main villain, Yokai, who looks simply amazing in motion.
The direction by Don Hall and Chris Williams is fast a fluid, without losing touch with the characters on screen, especially in 3D. The pacing is near perfect, which is always an issue with an origin story, but Hall and Williams pull it off here. By the end of the film, I felt that I knew these characters, and was rooting for them to succeed.
Big Hero 6 is easily the best animated Disney film since The Lion King. Hiro's journey resonates with the audience, and his joys, and losses, are felt by all. It is cliched to say, but I laughed and I cried, and I enjoyed myself for every bit of the films' 108 minute run time. I truly hope that Big Hero 6 is the beginning of a new franchise–one that is given the care and respect that this film had–as I want to see more adventures of this heroic team. They aren't the Avengers, or the Guardians of the Galaxy, but Big Hero 6 is a superhero team in its own right, and deserves the same amount of love and respect that the former two teams get. They are definitely worthy.
Oh, and stay for the end credits stinger. It's worth it.
Big Hero 6 is rated PG and is in theaters in standard viewing and in 3D nationwide.
TheHDRoom may be paid a small commission for any services or products ordered through select links on this page.