'Detroit' Review: Just Another Night Of Murder And Mayhem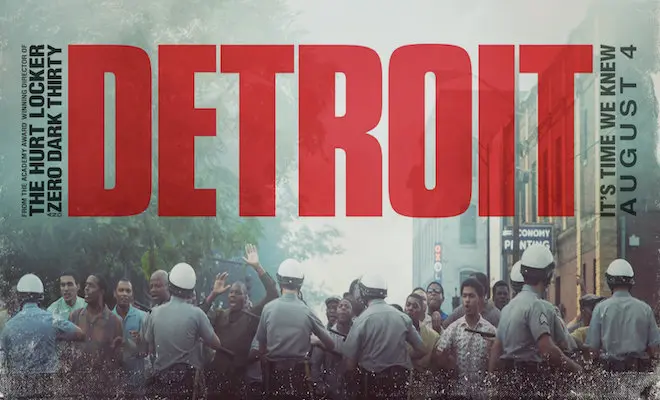 Detroit, Michigan, has a bad rap in 2017, but it wasn't always this way. Detroit was once the crown jewel of the midwest in terms of population and jobs and growth, challenging even mighty Chicago. After the Great Migration brought thousands of black families north looking for work, Detroit and its auto industry flourished in productivity, but under that new car smell was a dark underbelly of social unrest, exasperated by an unpopular war in Vietnam and the civil rights movement. Racism was alive and well in northern cities, and black families had to suffer for it, all so they could have their own slice of the American dream.
In the new Kathryn Bigelow film, Detroit, a tragic time in the motor city is re-enacted; a 1967 riot that tore the city apart, and one night in particular, at the Algiers Motel, that saw three young African-American men killed by the police who were sworn to protect them. Bigelow pulls no punches in detailing the events that are known facts, but the production takes some liberties to fill in some of the gray areas of that awful night in Motown.
Detroit stars John Boyega as Melvin Dismukes, a man working multiple jobs to make money, and one of those jobs is as a security guard. When the riots break out, Dismukes understands the tensions, and does whatever he can to keep both sides safe, even at risk to himself. On the flip side is officer Philip Krauss, played by Will Poulter. He's a racist cop disgruntled as his city is torn apart by the unrest, and that anger changes him. He, along with his cop buddies, played by Ben O'Toole and Jack Reynor, shoot an unarmed black man in the back as he was fleeing, and the cops are now under investigation for murder. This sets the precedent of what is to come at the Algiers Motel.
Rising R&B singer Larry Reed (Algee Smith) and his friend, Fred Temple (Jacob Latimore), are prevented from performing by the riots and the curfew established in the neighborhood, so they decide to stay the night at the Algiers to get off the streets. They meet Carl Cooper (Jason Mitchell) and his friends, including two white girls, played by Hannah Murray and Kaitlyn Dever. The girls are friends with a war vet named Greene (Anthony Mackie), and as this group interacts in the motel, Cooper uses a starter's pistol to playfully shoot at a group of National Guardsmen. This brings cops and soldiers alike to the motel to find the shooter, and sends the night into a spiral of racist hell.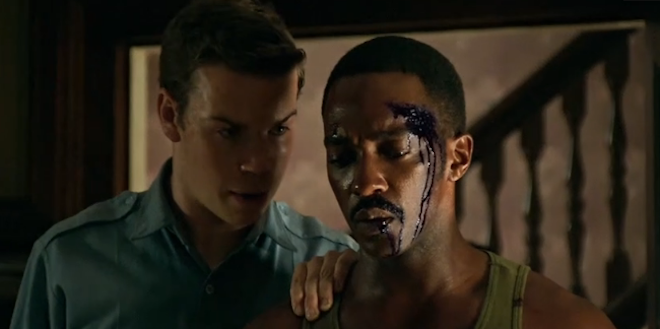 Detroit's script, by Mark Boal, starts strong by trying to show the how and why the riots started, which directly led to the events that transpired at the Algiers, but after that small amount of exposition, Detroit begins to stumble in its storytelling. Instead of Boal and Bigelow delving into the social causes of the murders at the Algiers, they choose to treat Detroit as a horror/exploitation film, with the white cops acting as the evil antagonists. It was almost as if they were intentionally trying to stoke emotion without any context. Filmgoers watch the news, we read news the internet, most are well-informed, and we are all aware that there is a frightening amount of police brutality, especially toward minorities. Watching these unspeakable crimes play out on screen is just another avenue of exploitation, without any resolve or recourse offered.
Is Detroit effective? Certainly. Audience members at my screening were crying as Bigelow presented the cold blooded murder of African-American men who were essentially doing nothing wrong. The follow up trial and consequences did nothing to alleviate that raw emotion, and Bigelow, who has always had issues with ending her stories, seemingly didn't know when to say cut on the whole production.
I walked out of Detroit angry of the missed opportunity to use a major film to spark much needed conversation, and possibly enact change at the highest levels of our government. It could have easily inspired people to be the change and work together to try and end this cycle of inherent racism and rage. Instead, I was shown horror, sickening horror, purely for effect, and it was done almost gleefully. I was very torn about how to review this film. As a critic, I can say it's an effective thriller, but as a human being, I can say that the film fails to do anything but stir up emotion and incite anger without offering any solutions. Detroit is a good film, but a missed opportunity. And that is inexcusable in the long term.
Detroit is rated R and is in theaters now.
TheHDRoom may be paid a small commission for any services or products ordered through select links on this page.