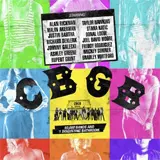 There's a moment in director Randall Miller's CBGB where Blondie (headed by Malin Akerman as Debbie Harry) is performing when out of nowhere Iggy Pop (Taylor Hawkins of Foo Fighters fame) jumps on stage and proceeds to launch into "I Wanna Be Your Dog," which the rest of Blondie apparently know how to play by heart and on cue. It's a moment of immediacy that comes close to nailing that feeling of chaos that an underground music scene fosters. The problem is that this moment never happened.
Therein lies the biggest problem plaguing Miller's too on the surface look at one of America's most musically and culturally important landmarks, and that problem is inauthenticity. Iggy Pop never played at CBGB, let alone intruded into one of Blondie's sets. The closing credits even makes mention of it, touting, "We know Iggy Pop never performed at CBGB. Deal with it!" It's one thing to play fast and loose with facts, but manufacturing a moment for a place that has millions of genuinely incredible moments all it's own just screams for the film and its creators to not be taken seriously.
The film honestly seems far more interested in Hilly himself, at least a version of Hilly, than his world renowned bar and it's fostering of the New York underground music scene. He's early on painted as a reckless dreamer who doesn't like paying bills or cleaning up the numerous shits that his dog takes, and believe me, the film will make it a point every 15 minutes or so to remind you that the dog shits everywhere and someone will step in it. Much the same way, Kristal is shown randomly stumbling upon an already functioning bar and deciding that it's going to be his next big venture, courtesy of a loan from his mother.
Hilly's dream for the new place is for it to be a Country, Blue Grass and Blues bar, hence the birth of the CBGB moniker. It's not long before a young band manager (Johnny Galecki) persuades Hilly to let his band Television perform. About the same time Hilly's daughter Laura (Ashley Greene) comes into the picture to start an off and on business relationship with her dad and his club. It's not long before word of mouth begins to spread about the club thus cueing the growing crowds versus lack of bill paying against a backdrop of some of the more iconic bands to be birthed out of the American punk scene who are treated as such; nothing more than a backdrop.
Performances range all over the map. Aside from giving the New Jersey born, New York native Kristal his own unmistakable English accent, Rickman does a great job at making Kristal a loveable character, even when he's portrayed as a poor decision making asshole. The band scenes all feel a bit like bad SNL parodies, in part due to the way the film just notches band after band off some invisible list. "Here's Talking Heads! Here's Blondie! Here's the Ramones!", the movie seems to say without any real depth or care for the bands at all. All of the music being pre-recorded versions just adds more layers to the film's seemingly joyous approach to being as inauthentic as possible.
The true highlights are Mickey Sumner's Patti Smith (seriously, someone needs to get on a Patti Smith biopic and get Sumner involved as soon as possible) and Freddy Rodriguez's homeless kid Idaho. Rodriguez is so lost in the role that I didn't even realize it was him until the credits rolled. He brings a realness to his character that so much of the rest of the film could have used. Instead those involved were seemed too concerned with making sure the bathroom was accurately appalling, which they manage to nail.
There's also this recurring bit involving PUNK magazine, a zine that was birthed out of the burgeoning underground music scene. In fact, the film begins by saying "Punk" began because of said zine and not the other way around as it obviously was. Nearly anytime the film makes a transition it cuts into these near animated sequences full of word balloons and sound effects that, while I get the sentiment, gets old really fast. It just comes across as another example of the filmmakers just not understanding the source material that they were tapping.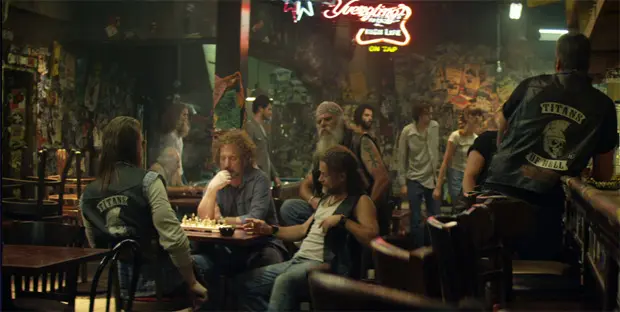 High-Def Presentation
Some praise I can lavish CBGB with is that it's a beautiful looking film. It's got a 1080p MPEG-4 AVC encoded transfer that gives it a pristine quality that really shows off every fine detail the camera can find. There are some moments where the film transitions into a gritty, noisey look that is obviously intentional and I suppose is done in a way to give the film more of a documentary feel. It doesn't take away from anything, but it does seem an odd choice. Colors are bright and skin tones are warm and healthy. It's a shame the movie isn't better because it looks superb.
The sound mix on the film is no slouch either. With a DTS-HD Master Audio 5.1 mix, everything comes out crystal clear and almost as powerful as you'd want it to be. There's a different song playing every five seconds and each one takes full advantage of the soundscape. This is where I wish that new live renditions of the bands on display had been recorded as it would have helped elevate the performances from mere pantomime and really given the film the edge it so desperately needs. Still, the pre-recorded bits still come out strong. Dialogue is mostly centered but creeps into the sides every now and again. Overall a solid sound package to match with the incredibly impressive visual one.
Beyond The Feature
Accompanying CBGB on it's Blu-ray debut is a small assortment of special features, most notably an Audio Commentary with director/writer Randall Miller, writer Jody Savin and producer Brad Rosenberg. The commentary does show that the creatives involved were interested in a lot of the detail surrounding the famed club and making sure they nailed the look, which as far as the bar itself is concerned they did. They also have many a nice thing to say about the cast and their portrayals of these numerous music legends. It's far from a commentary that would change one's opinion of the film, but it's serviceable and offers a bit of a look into the film's creation.
The other features include a pair of Deleted Scenes (HD, 3 min) that work as extended sequences focused around Hilly's involvement with The Dead Boys, and there's an Outtakes reel (HD, 3 min). It seems even more damning to the film that there isn't some sort of real life feature on the bar, its patrons, the musicians or Hilly himself. Maybe there was a fear that anything of the sort would be far more interesting than the film itself.
As hard as I've been on the film, I can't say that CBGB doesn't have it's moments, many of those found in Freddy Rodriguez's performance. I'm honestly just not sure who this film was made for. There's such a lack of credibility and accuracy that genuine fans of the club and the scene that it helped birth are going to cry foul. I honestly don't see many young ones gravitating towards the film either, although it feels all too nicely prepared for the iPod generation of surplus with no substance. There's a lifetimes worth of great stories to tell out of that club. Sadly, CBGB misses them and, even worse, misses the point.
Shop for CBGB on Blu-ray for a discounted price at Amazon.com (December 31, 2013 release date).