'Bumblebee' Review: FINALLY, A Great Transformers Movie
It hasn't been easy being a fan of the Transformers when it comes to live action films. For the last 13 years, we've suffered not only from some of the worst films based on a toy line ever, the last two Transformer films have ranked among the worst films ever made. But before Transformers: The Last Knight all but killed the franchise, Paramount Pictures had already given the green light to a "prequel" starring Autobot favorite Bumblebee, and thankfully so, that film was able to be made even as the franchise was dying a loud, ugly death.
Paramount gave the film to Travis Knight, one of the founders of the Laika Animation Studio, and the director of the sublime Kubo and the Two Strings. Knight is actually a long-time fan of the toys and the franchise and understood it all, so, of course, his film, Bumblebee, would be something that other fans would enjoy, right? The answer is an emphatic yes.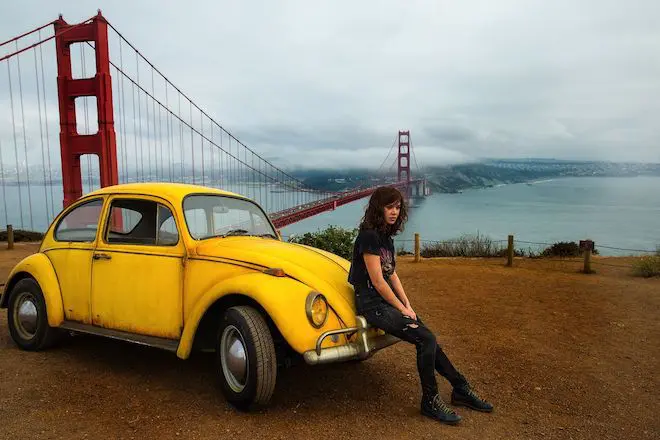 Bumblebee stars Hailee Steinfeld as Charlie, an 18-year-old girl touched by past tragedy after her father died of a heart attack. His absence has isolated her from her mother (Pamela Adlon) and her little brother Otis (Jason Drucker). While her mother has moved on with a new man, Ron (Stephen Schneider), Charlie is left alone, dealing with the loss, and trying desperately to rebuild an old corvette that she and her dad were working on together before he passed.
Halfway across the galaxy, a war is being waged on another planet and a scout is sent out to find new worlds. That scout ends up on Earth, with no memory and no way to communicate, and these two lost souls find each other, and against all odds, they form a deep, meaningful friendship and they both learn something about themselves and each other.
Oh, did I mention that the scout is a 10-foot tall robot that can transform into a VW beetle?
Bumblebee is the first Transformers film that not only captures the spirit of the original Generation 1 line from 1984, but by setting the film in 1987, Travis Knight and screenwriter Christina Hodson have made one of the best "80s" films ever. My description above could almost be used for a litany of films that came out in the decade of excess, and that is what makes Bumblebee work on so many levels.
For the long time fans, Knight was meticulous in recreating the G1 designs (actually, more of the War for Cybertron designs, but I'm not arguing), and the first seven minutes of Bumblebee are a Transformer fan's dream come to life. I'm not even sure I took a breath during the scenes on Cybertron and with each new character reveal, my heart beat a bit faster and my brain was screaming, "NO WAY!?" It was everything I had hoped for since 2005 when it was announced that Paramount was making a live-action Transformers film.
In those seven minutes, the sins of Michael Bay were washed away and forgotten, and I was a little kid again, collecting and playing with the toys, racing home after school to watch the cartoons, and enjoying the fun anticipation of waiting each month for a new issue of the comic book. All of that came back, and instead of quickly being pulled out of that halcyonic state, the other hour and 45 minutes of Bumblebee kept me in that time warp with some great '80s music and classic situations, and a gag involving the band The Smiths that is still making me laugh today.
Bumblebee is a classic '80s movie starring a classic '80s character, and it works. It all works. Along for the ride are John Cena as a Sector 7 agent named Jack Burns and Jorge Lendeborg, Jr. as Memo, Charlie's love struck next door neighbor. The voice cast for the Transformers characters include names like Justin Theroux, Angela Bassett, and Dylan O'Brien, and for long time fans, Peter Cullen returns once again as Optimus Prime. The actors voicing the other G1 Transformers try to sound like the original characters, with Soundwave and Shockwave both sounding like they were ripped from 1984 by a time machine. This all helped to make Bumblebee the amazing experience that it is.
For too long, fans of the Transformers have had to make compromises when it comes to the live action films. The messy, complicated, and often times vulgar "things" on screen were presented to us as our favorite characters, but they weren't. And no matter how much we looked the other way and made deals with ourselves that "this is as close as we're gonna get to see Soundwave on screen," it was never really the Transformers we know and love. All of that changes with Bumblebee, and fans now know that a good Transformers film can be done. Travis Knight needs to be given the Matrix of Leadership of the franchise going forward. Even if he can't direct every film, all creative decisions need to go through him. He gets it. He made it work. Bumblebee is a fantastic family film that appeals to fans old and new. It has heart and soul, and giant robots. And finally, the world has a great Transformers movie. Primus be praised.
Bumblebee is rated PG and is in theaters now.
TheHDRoom may be paid a small commission for any services or products ordered through select links on this page.