James Bond 007 is a Hollywood legend. An instantly recognizable icon despite what actor is filling his shoes. He is practically an institution considering 50 years of films that span generations with no end in sight.
With James Bond's 50th anniversary comes the Bond 50 Blu-ray collection from MGM Home Entertainment. It is as much a celebration of 007's past, present and even future as a stroll through Hollywood history. From Sean Connery to George Lazenby, Roger Moore to Timothy Dalton, and Pierce Brosnan to Daniel Craig, James Bond is the only theatrical constant that can be traced back half-a-century. Considering the ongoing interest in Great Britain's most recognizable spy, the man who prefers his martinis shaken and not stirred could be around another 50 years or more.
Some Bond films far surpass others and even the most diehard Bond fanatics will agree. Bond 50 shows no preference in this regard. It is as complete a collection of 22 James Bond films in high definition as legally possible from Dr. No to Quantum of Solace, sans the independently produced Never Say Never Again. It goes without saying that Bond 50 is for the hardcore or casual Bond fan who would enjoy the ability to reference or enjoy any Bond film at any time.
Nine of the films have never been on Blu-ray before and now finally are: You Only Live Twice, On Her Majesty's Secret Service, Diamonds are Forever, Goldeneye, Octopussy, The Spy Who Loved Me, The Living Daylights, Tomorrow Never Dies and A View to a Kill. The only way to purchase these films on Blu-ray is in this collection, which may pose an issue for those that already own the other 13 Bond films on Blu-ray and refuse to upgrade to the box set.
High-Def Presentation
The key to this set is clearly the nine Bond films making their Blu-ray debut. I sampled a few minutes of each and came away impressed with the transfer work MGM has conducted. They are on par with the other Blu-ray films in the set and many heads above their previous DVD incarnations; not perfect, but more than acceptable given the wide range of years the films span. If you were on the fence about upgrading to this set and completing your Bond Blu-ray collection, don't be. The visual upgrade is worth the price of admission.
Likewise the audio has been bumped up to 5.1 DTS-HD Master Audio for the nine new films and, after some sampling, I found it matches the rest of the collection. Consistency is important when working through the Bond collection and the range of audio mixes never crosses the line to feel out of place.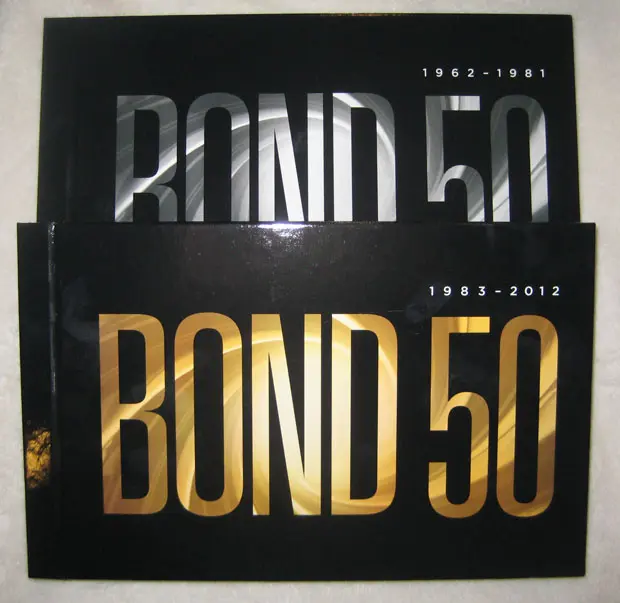 Beyond the Feature
The Bond 50 Blu-ray case is glossy, sturdy, and measures 10 3/4″ wide x 7 1/4″ high x 1 3/4″ thick. It has one of those sticky tacked-on flimsy back covers that are more a nuisance than anything else. At least in this case the extra cardboard is sticky tacked onto all four sides so it will not fall off too easily, though it is still highly susceptible to damage given its flimsy nature that does not match the sturdiness of the rest of the case.
Inside the hard outer case are two glossy hardcover books that exclude elegance and high value, each containing half of the Bond films in the set presented in chronological order at two films per page. The first book features the Bond films from 1962 through 1981, while the second book runs 1983 through 2012. Thinking ahead, MGM has thoughtfully included an extra slot next to the bonus features disc for Skyfall, the upcoming new James Bond 007 that arrives in theaters in November 2012.
The neat thing about the way MGM has assembled the pages that house the discs are each film is marked by its year and the lead actress from that film. Flipping through both looks is akin to a quick history lesson on Bond girls.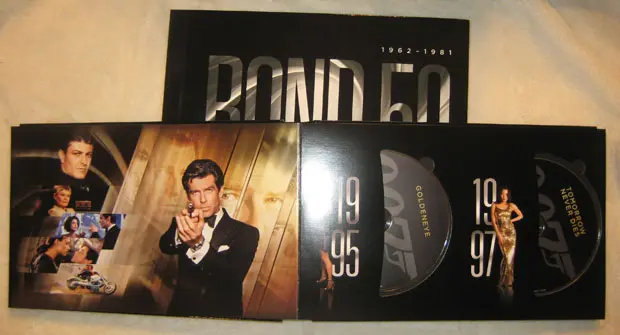 Each of the Bond films include all the previously released bonus features from their earlier Blu-ray and DVD incarnations (roughly 120 hours total). The separate bonus features disc includes a new documentary, a couple short featurettes, and web video blogs from the making of Skyfall.
The first documentary, 'The World of Bond,' is broken down into over an hour worth of all the Bond film title sequences played chronologically, the Gadgets of Bond, the Villains of Bond, the Bond Girls, Bond Locations, and Bond's Cars. In total this retrospective documentary runs around an hour and twenty minutes, but a little over an hour of that is dedicated to the title sequences.
The four-minute featurette 'Designing 007: 50 Years of Bond Style' spends a little time with curator Bronwyn Cosgrave as he shows off props, outfits and more from the Bond franchise.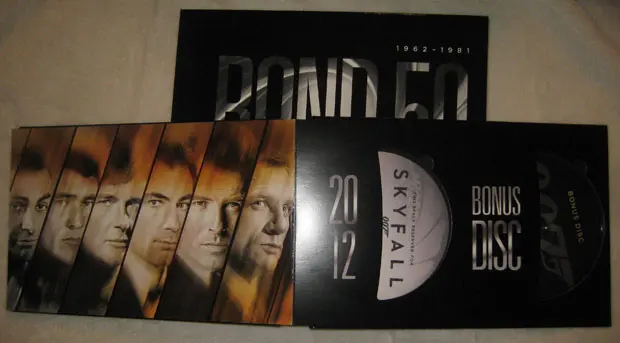 'Being Bond' wraps up the bonus features with each of the six Bond actors taking a few moments to talk about playing the iconic role. These interview snippets of about 30 seconds each were taken from older interviews and cut together for this three-minute featurette.
At around $150 new, Bond 50 on Blu-ray is a fantastic deal that works out to roughly only $7 per Bond film. The only complaints I have are the removable back cover and awkwardness of storing the big case on a standard Blu-ray shelf. Both of those are a matter of personal preference that some of you might take no exception to whatsoever. Unless you purchased the 13 previously released Bond films on Blu-ray and absolutely want to finish that collection with individual Blu-ray cases, you really cannot go wrong with a complete set of "Bond, James Bond" on Blu-ray that will remain complete for at least another couple years thanks to some clever forward thinking.
– Dan Bradley
Shop for Bond 50 on Blu-ray for a discounted price at Amazon.com (September 25, 2012 release date).