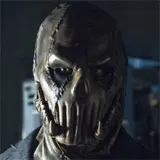 It's Christmas time in Starling City, and Oliver Queen is visited by three ghosts this week as Arrow closes out the first half of the season with the series' best episode. The Barry Allen/Cyrus Gold storyline is brought to a close as there were surprises galore, deaths, cameos, and shocking revelations, all setting up the back half of the season. We even saw the creation/revelation of two villains and three (yes, three!) heroes. It was a very busy night.
1. What is it?
Arrow Season 2, episode #209, titled 'Three Ghosts.'
2. Who's in it?
Stephen Amell stars as Oliver Queen/Arrow; Katie Cassidy as Laurel Lance; David Ramsey as John Diggle; Emily Bett Rickards as Felicity Smoak; Colton Haynes as Roy Harper; Willa Holland as Thea Queen; Paul Blackthorne as Quentin Lance; Manu Bennett as Slade Wilson; Guest stars this week include Grant Gustin as Barry Allen; Celina Jade as Shado; Caity Lotz as Sara; Dylan Neal as Professor Anthony Ivo; Kevin Alejandro as Sebastian Blood; Bex Taylor-Klaus as Sin; Danny Dworkis as Dr. Visak; Jesse Hutch as Officer Daily; Graham Shiels as Cyrus Gold; and Roger Cross as Lucas Hilton.
3. Who made it?
'Three Ghosts' was written by Geoff Johns and Ben Sokolowski, based off a story by Greg Berlanti and Andrew Kriesberg. The episode was directed by John Behring.
4. What is it about? (**spoilers galore**)
'Three Ghosts' opens with Barry Allen (Gustin) working to determine what was injected into Oliver (Amell)–it was a blood coagulant–and then working to save his life with rat poison. Ollie wakes up and is angry at Felicity (Rickards) for letting someone in on his secret.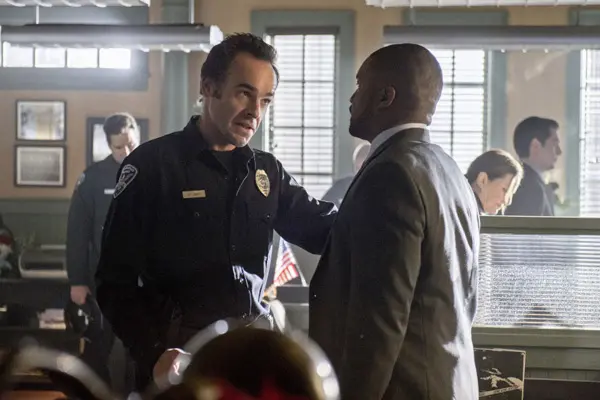 Ollie is visited by Shado (Jade), the first ghost, who tells him that there was nothing he could have done to save her. Ollie asks Barry if there were any side effects from his makeshift cure and Barry says hallucinating is a possibility. Team Arrow, along with Barry, is able to figure out the identity of the super-powered thug that almost killed Ollie: Cyrus Gold (Shiels). Barry also tells Ollie he should wear a mask.
Diggle (Ramsey) and a still-recovering Ollie go to Cyrus' apartment and Diggle is ambushed, barely escaping with his life.
Arrow asks Officer Lance (Blackthorne) for help in apprehending Gold, and while on the roof of SCPD, Arrow sees Slade Wilson (Bennett), the second ghost, staring at him.
Lance convinces his old partner, Detective Hilton (Cross) to go on the mission to find Cyrus Gold, and Officer Daily (Hutch) volunteers, and informs his true boss, Brother Blood (Alejandro) of the impending police action.
Team Lance is ambushed by the super-powered Gold, Lance is beaten down and Detective Hilton is killed. In fact, Lance is the only survivor.
In the Arrow Cave, Ollie is once again visited by the ghost of Slade Wilson, who proceeds to call Ollie a failure and the ghost tells him that he is no hero. They fight (…just go with it) and Ollie is defeated.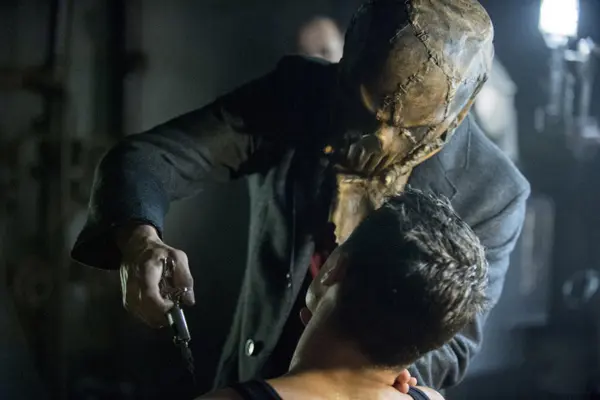 Laurel (Cassidy), who is out shopping with Alderman Sebastian Blood, gets the call about her father and rushes to the hospital. She is the one who tells her father that Hilton was killed. Blood shows up to comfort her, and he signals to an injured Officer Daily with a head nod, meaning Officer Lance may not be long for this world.
Arrow visits Quentin in the hospital, and Lance gives Arrow a key that he was able to lift off of Gold during their fight.
Oliver tells Diggle about Slade Wilson, and his ghostly visitations, and Digg explains that it's survivor's guilt, and he has to figure out what the ghosts are trying to tell him. Team Arrow is able to track the key to a location in the Glades and Arrow goes off to stop Gold once and for all.
As the main plot and the subplot merge, Arrow bursts in and a masked Brother Blood tells Arrow that the Mirakuru was a gift from a mysterious benefactor. Cyrus Gold then attacks Arrow as Roy seemingly dies from the injection. Ollie is then visited by the third ghost, who explains to him that he is a hero and he orders Oliver to get up and fight. Arrow responds and attacks Gold relentlessly, finally overcoming him, and causing him to be doused in chemicals and buried in concrete. Ollie then resuscitates Roy.
Sebastian Blood declares himself in the running for mayor of Starling City. He then confronts his benefactor in his posh office, who explains that the vigilante is now off limits, and that the mysterious benefactor has plans to completely destroy all that Arrow cares about before he ultimately kills him in a very painful way.
Ollie tells Team Arrow that he saw the man in the skull mask and that Roy was injected with Mirakuru and will have to be watched.
Barry returns to Central City to witness the powering up of the particle accelerator, only to be too late. He goes back to his lab at Central City PD just as a power outage caused by a terrible lightning storm creates an accident with the particle accelerator, which in turn causes it to blow up in a wave that sweeps over all of Central City. Barry is caught in the wave in his lab, which causes his chemicals to float up around him and mix, just as a bolt of lightning crashes down into the lab, striking Barry unconscious.
Felicity finds a Christmas gift that Barry left for Ollie and she puts it on–a mask to cover his eyes. Oliver asks how he looks, and Felicity tells him that, "He looks like a hero."
The subplot this week has Roy (Haynes), recovering from the arrow to the knee from last week, continuing his investigation into Sin's (Taylor-Klaus) friend, Max's, death. Thea (Holland) asks Laurel (Cassidy) for help as well. When Laurel turns up that all donors of Sebastian Blood's blood drive had psyche evaluations before donating, Roy goes to the clinic and finds Max's file and the mysterious word "Mirakuru" stamped on the folder. As Brother Blood's right hand man, Dr. Visak (Dworkis) returns and begins pouring gasoline throughout the office, Roy subdues him and tries to escape until Cyrus Gold knocks him out, and takes him to Brother Blood to be experimented on. Brother Blood injects Roy with the Mirakuru which brings this story in line with the main story as Arrow bursts in (see above).
On the Island, Ivo (Neal)–Mirakuru in hand–gives Ollie a life or death ultimatum. Ollie has to choose between Sara (Lotz) and Shado (Jade), as Ivo will kill whichever one Ollie chooses, or he'll kill both if Ollie fails to choose. Oliver refuses and tries to offer himself up, and Ivo decides for him, shooting Shado in the back of the head.
Slade Wilson wakes up in the sub and finds the remains of Team Ollie at the gunpoint of Ivo and his men outside, and Slade–now superpowered–takes out the entire squad with incredible ease. Ivo flees with the Mirakuru and Slade finds Shado's lifeless body. Sara tells Slade that Ivo killed her, and Slade promises that "whoever did this to her will suffer."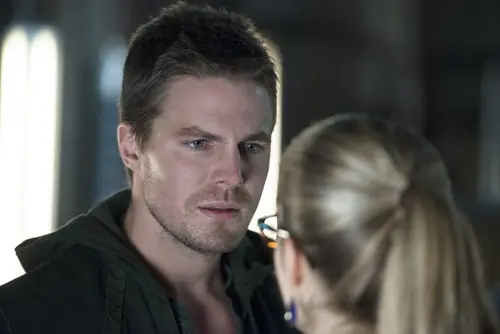 5. Any revelations, tie-ins, easter eggs, etc.? (**SPOILER!**)
Not too many references this week, as writers Johns and Sokolowski put it all out there in the actual story. Cyrus Gold's infatuation with the classic James Orchard Halliwell poem, Solomon Grundy; Ollie calling Thea "Speedy;" and an appearance of Linda Park, who Flash fans will recognize will one day marry Wally West, known as Kid Flash and who later takes over the mantle of The Flash after Barry Allen "dies" during the first Crisis.
6. Will we watch next week?
No. Arrow goes on winter hiatus for five (FIVE!?) weeks, but returns on January 15 with new episodes. It's been a helluva first half of a season, and if they can keep up this frenetic pace for the next 14 episodes, it's going to be even crazier. Coming up, look for appearances by the Suicide Squad, more ARGUS (and Amanda Waller), a Batman villain, The Clock King, and at some point, an al Ghul has to make an appearance…if they haven't already. *wink*
Enjoy your holidays and meet us back here in mid-January!