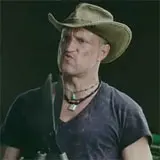 Sony Pictures has released the first full trailer for Ruben Fleischer's Zombieland starring Woody Harrelson, Jesse Eisenberg, Emma Stone and Abigail Breslin.
Zombie films never grow tiresome when done right and this one looks like a hell of a lot of fun. It reminds me of what might happen if Capcom's Dead Rising videogame's colorful undead characters invaded Adventureland.
Columbus (Jesse Eisenberg) has made a habit of running from what scares him. Tallahassee (Woody Harrelson) doesn't have fears. If he did, he'd kick their ever-living ass. In a world overrun by zombies, these two are perfectly evolved survivors. But now, they're about to stare down the most terrifying prospect of all: each other.
Check out the full trailer below, then head over to Apple.com for the high definition versions. Zombieland makes its way to theaters in October.