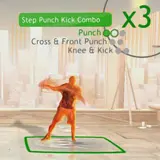 Today Ubisoft released a pair of new DLC packs and a discounted combination pack for Your Shape Fitness Evolved on Xbox 360 Kinect.
The Toned Body Program will cost 320 Microsoft Points and works to strengthen muscles and firm up the body. The Cardio Boxing Platinum pack adds a new more advanced routine to the already available cardio boxing options. It will cost 400 Microsoft Points.
You can save a few points/bucks by purchasing both Your Shape Fitness Evolved DLC packs for 560 Microsoft Points.
Check out the trailer below which shows off some of the advanced moves you'll have to execute in cardio boxing.
Buy Your Shape Fitness Evolved for Xbox 360 Kinect at a discounted price from Amazon.com.
> >