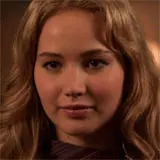 Lionsgate can breathe a sigh of relief in regards to the timing of The Hunger Games sequel Catching Fire thanks to the generosity of Twentieth Century Fox.
THR is reporting that Fox has begun alerting talent agencies of a January 2013 production start date for the sequel to X-Men: First Class, which will prominently feature The Hunger Games star Jennifer Lawrence as Mystique alongside Michael Fassbender as Magneto. This start date means First Class 2 won't be in theaters until either late 2013 or, more likely, sometime in the first half of 2014.
Lionsgate is off the hook as Fox legally had first dibs on Lawrence to film the X-Men sequel whenever they chose to. With Lionsgate already announcing a fall 2013 release for The Hunger Games sequel Catching Fire, that studio absolutely needed to get Lawrence in front of cameras later this year.
It was thought that Fox was originally eying this fall to begin shooting First Class 2. Now that Fox has pushed their start date back into 2013, Lionsgate is all clear to begin and finish Catching Fire production in 2012.
Lionsgate must now ink a deal with a director for the next The Hunger Games. Stars Jennifer Lawrence, Josh Hutcherson and Liam Hemsworth are all under contract. The Hunger Games director Gary Ross is not, but is currently pursuing a raise with the studio during currently ongoing negotiations.
Source: THR