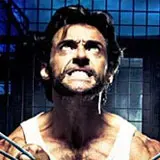 X-Men Origins: Wolverine anticipation is building to a fevered pitch this week and Best Buy is now getting in on the action.
The retailer's weekend circular is promoting an exclusive Wolverine comic-inspired character skin to anyone who purchases X-Men Origins: Wolverine for PS3 or Xbox 360 at their store. Check out a slightly fuzzy but still identifiable pic of the skin below.
Elsewhere in Wolverine news today, Hugh Jackman and the film's cast are preparing to fly into Tempe, Arizona to attend the grand premiere for X-Men Origins: Wolverine at Harkins cinemas. A big gala movie premiere outside the usual Los Angeles and New York confines is new territory for Hollywood. Based on the publicity Hugh has garnered for Wolverine thus far it likely won't be the last "small town" premiere.
Local news stations here in Arizona are already setting up in the shopping center where more than 10,000 rabid fans and ASU college students are expected to turn out in hopes of catching a glimpse of Hugh or anyone else who looks important.
The stars are expected to walk the red carpet around 5PM Arizona time today which will be broadcast live from all Phoenix-based television station websites. Pandemonium is sure to ensue.