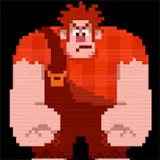 Following the impact brought on by Hurricane Sandy and a group of films no one cared about, the North American box office came back to life in a big way thanks to the arrival of Disney's Wreck-It Ralph starring the voices of John C. Reilly and Sarah Silverman, and Paramount's Flight starring Denzel Washington. Both films had great debuts and easily held off the week's other newcomer, The Man With the Iron Fists, which crashed and burned in a fourth place finish. The top ten was up a big 59% over last weekend's top ten and a healthy 19% over the top ten from one year ago.
Connecting with moviegoers young and old, Disney's latest 3D animated feature Wreck-It Ralph arrived on 3,752 screens Friday and captured a massive $49.1 million in estimated sales. It's the biggest non-holiday opening for Disney Animation Studios, a total that was helped considerably by 3D ticket surcharges and an aggressive marketing campaign. Reviews for the film, which features the voice talent of John C. Reilly and Sarah Silverman, were on the favorable side. Open day audiences also voiced their approval for the feature by bestowing the movie with an "A" CinemaScore rating.
An adult alternative to the animated hijinks of Ralph was Paramount's drama Flight, which was directed by Robert Zemeckis and stars Denzel Washington, John Goodman and Don Cheadle. Debuting on half of the screens Ralph did, the $31 million production earned a great $25 million in estimated ticket sales from 1,884 screens. A possible award contender, Flight was shown as the closing night selection at this year's New York Film Festival and has been shown in major markets around the country, some followed by Q&A sessions with the director and cast. The film will expand to more theaters over the upcoming weeks.
Warner's hit drama Argo had another strong weekend as word-of-mouth continues to help the Ben Affleck-directed flick inch closer and closer to the century mark. Argo eased a mere 15% in its fourth weekend to earn an estimated $10.2 million on 2,774 screens to bring its total to $76 million. The film's domestic gross should pass the $90 million earned by Affleck's last directorial effort, 2010's The Town, shortly.
In fourth place was the weekend's third wide debut The Man With the Iron Fists. The directorial debut of RZA opened on 1,868 screens and could only muster a limp-wristed $8.2 million in estimated sales. The film was co-written and produced by Eli Roth and "presented" by Quentin Tarantino. The film's marketing was targeted to the UFC crowd, who apparently had better things to do with their weekend than see this film. The movie stars Cung Le, Russell Crowe and Lucy Liu. Given the "C+" rating CinemaScore audiences gave the flick, Man's long-term box office prospects are limited at best.
Rounding out the top five this weekend was the Liam Neeson action sequel Taken 2 with an estimated $6 million on 2,639 screens. Off only 22% from last weekend, the hit has taken $125.6 million and should finish its run close to the $140 million mark. An extended cut of the film has been announced for Blu-ray release early this winter.
The remainder of the top ten is as follows:
6. Cloud Atlas (Warner Brothers) $5.2 million (-45%); $18.2 million to date
7. Hotel Transylvania (Sony) $4.5 million (-52%); $137.6 million
8. Paranormal Activity 4 (Paramount) $4.3million (-50%); $49.5 million
9. Here Comes the Boom (Sony) $3.6 million (-31%); $35.5 million
10. Silent Hill: Revelation (Open Road) $3.3 million (-59%) $13.9 million
Next weekend, James Bond returns with the critically-acclaimed Skyfall (believe the hype: the film is great.) while Steven Spielberg's historical drama Lincoln will open in very limited release.
– Shawn Fitzgerald