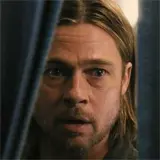 Update: World War Z Blu-ray 3D cover art has been added, along with confirmation of 7.1 DTS-HD Master Audio.
Brad Pitt's fight against aggressive zombies in World War Z will be packing a new unrated cut when it comes to Blu-ray 3D, Blu-ray and DVD on September 17. The Digital HD version will be available a week earlier on September 10.
World War Z was pegged as a surefire box office bust after production woes and script problems forced Paramount and director Marc Forster to completely reimagine the film's final act. The efforts paid off as World War Z has earned $193.8 million domestically and a $474.2 million worldwide thus far, prompting Paramount to begin early work on a sequel for what was originally planned to become a trilogy – and still might.
Pitt, who also serves as a producer on the film, offered the following statement regarding the World War Z unrated cut, "I'm really excited for fans to see the new unrated version of World War Z on Blu-ray. We were thrilled with the audience response to the film in theaters and wanted to give viewers even more of the action and intensity that they loved when they watch the film at home."
Here are the World War Z bonus features:
Origins – The filmmakers discuss collaborating with renowned actor/producer Brad Pitt to create a zombie film the likes of which have never been seen.
Looking to Science – Explore the scientific realities of zombie behavior in nature and learn more about zombies in literature and film.
WWZ: Production

Outbreak – Go on set with Brad Pitt and director Marc Forster for a behind-the-scenes look at the film's breathtaking first attack in Philadelphia.
The Journey Begins – Delve deeper into Gerry's fight for survival during the dramatic escape in South Korea.
Behind the Wall – Explore the epic scene in Jerusalem and discover the incredible logistics of creating the elaborate stunts and crowd sequences.
Camouflage – Experience the final confrontation between Gerry and the zombies and discover the phenomenal scope of the film's production.
Pre-order World War Z on Blu-ray and DVD combo for $19.99 at Amazon.com, 50% off the $39.99 list price.
Pre-order World War Z on Blu-ray 3D combo for $24.99 at Amazon.com, 55% off the $54.99 list price.