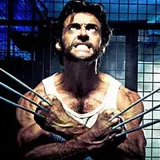 X-Men Origins: Wolverine's finalized box office tally for this past weekend came in a bit under the $87 million estimate with a paltry $85.1 million draw. Anyway you slice it, fans love their Wolverine and studios love their cash so you know what comes next.
Variety is reporting Seed Productions partners John Palermo and Hugh Jackman are ramping up several projects for Hugh to star in over the next several years. The big one is, of course, a Wolverine sequel.
One of the post-credits X-Men Origins: Wolverine endings sees Logan downing shots in a Japanese bar, unsure of what lies ahead now that his memories have been erased. A Japanese Samurai storyline is the next logical step for Wolverine per the comic which is precisely where Seed plans to take the series next.
No writer is on board for Wolverine 2 yet but expect this one to develop quickly to take advantage of Wolverine fever. I'd prefer they take their time and do it right, unlike Wolverine which feels rushed and incomplete.
Jackman is also on board to star in Fox's "Personal Security," a Bodyguard-type concept where Hugh is hired to guard a spoiled teen heiress after she receives kidnapping threats.