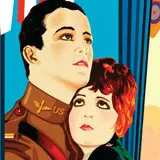 2012 marks Paramount's centennial anniversary, and to begin a year's worth of celebration, the studio is releasing the first Best Picture Academy Award winner Wings on Blu-ray and DVD on January 24, 2012.
Wings was originally released in 1927 and has been fully restored for its Blu-ray debut. The World War I drama that cost a then staggering $2 million to produce follows two men sent off to war and the woman they left behind. It stars Clara Bow, Richard Arlen, Charles "Buddy" Rogers, and in one of his first feature film appearances, Gary Cooper.
The restoration process required the use of a damaged duplicate negative housed in the Paramount archives as the original was lost long ago. Advanced digital techniques were used to restore the film, and the original paper score was procured from the Library of Congress and re-recorded by a full orchestra.
Additionally, Ben Burtt and his team at Skywalker Ranch added World War I sounds based off of a library of sounds from earlier eras.
Wings on Blu-ray will be presented in 1080p video and 5.1 DTS-HD Master Audio with the newly-restored musical score by J.S. Zamecnik. Additionally, an organ score by Garlord Carter will be available in 2.0 Dolby Digital.
All of the Wings bonus features are new:
Wings: Grandeur in the Sky
Dogfight!
Restoring the Power and Beauty of Wings
Wings on Blu-ray carries an SRP of $29.99.