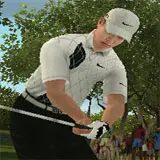 The Nintendo Wii evolves this week with the introduction of Wii MotionPlus 1:1 motion control and a trio of sports games that take advantage of it.
Electronic Arts has jumped onto the Wii MotionPlus bandwagon with a pair of launch titles: Tiger Woods PGA Tour 10 and Grand Slam Tennis.
The latter marks EA's first foray into console tennis and certainly not their last. The former is available as a standalone and also bundled with a MotionPlus device.
SEGA is going head-to-head with EA with Virtua Tennis 2009, the latest in an ongoing series but first to utilize Wii MotionPlus. It is priced almost $10 less than Grand Slam Tennis which may give it a sales advantage.
Both Tiger Woods PGA Tour 10 and Virtua Tennis 2009 will also be available on Playstation 3 and Xbox 360. Grand Slam Tennis, for now, is a Wii exclusive.