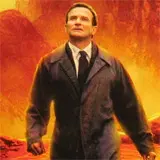 What Dreams May Come from director Vincent Ward and starring Robin Williams and Cuba Gooding Jr. has been scheduled for a May 5, 2011 debut on Blu-ray Disc by Universal Studios Home Entertainment.
The film was last available as an HD DVD high definition exclusive in 2007 and before that on DVD in 2003.
Universal will release the visually stimulating film on Blu-ray in 1080p video and 5.1 DTS-HD Master Audio. Bonus features are not confirmed at this time but will likely mimic those found on the 2007 HD DVD and 2003 DVD as outlined below.
Feature Commentary with Director Vincent Ward
About the Visual Effects
"Making of" Featurette
Alternate Ending
Photo Gallery
Cast and Filmmakers
Production Information
Theatrical Trailer
I'll pass along the What Dreams May Come Blu-ray cover art and Amazon pre-order link when they're available.