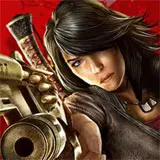 Bethesda Softworks has revealed plans to release Wet on Playstation 3 and Xbox 360 on September 15 and unveiled a new website to coincide with the announcement.
Wet sees players assume the role of gun-for-hire Rubi Malone, brought on for what looks like just another job that turns into a near death experience and hunt for the truth.
A trio of gameplay mechanics are Wet's driving force including 360-degree slip-aiming mechanics, swordplay, and acrobatics. Seamlessly combined in a retro 70s inspired world they hope to take third-person action adventure into uncharted territory.
Click here to secure your Wet pre-order for PS3 or Xbox 360 at Amazon.com.