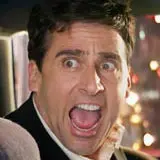 Warner Bros. elaborate remake of Clash of the Titans hit some turbulence at the domestic box office in its second weekend thanks largely to the one-two punch of audience indifference and the debut of the Steve Carell and Tina Fey comedy Date Night posting better-than-expected numbers in its debut. Overall, the box office held up fairly well as Hollywood entered its pre-summer movie season holding pattern for the next few weeks prior to the May 7 blastoff of Paramount and Marval Studios' Iron Man 2.
Without the benefit of high concept, 3D or that technology's higher ticket prices, the strong $27.1 million collected from Twentieth Century Fox's comedy this weekend surprised everyone, including the studio. Directed by Night at the Museum director Shawn Levy, Date Night got a boost from the fan bases that Carell and Fey have with their hit NBC comedies The Office and 30 Rock, as well as people out on their own date night looking for something that was not a visual effects orgy and that also required you wear a cheap pair of glasses to properly view it. A fair amount of positive reviews may have also helped. Whether the film stays at number one when the actual numbers arrive on Monday is anyone's guess, but for now Fox can claim bragging rights for having the number one film in America.
Down 56% from last weekend's big opening, Titans commanded $26.8 million in estimated ticket sales for the weekend. Compared to second weekend drops of recent 3D hits Avatar (1.8%) and Alice In Wonderland (46%), Titans steep drop was a sign that perhaps the film and its faux 3D might not be striking a chord with audiences the way Warner Brothers was hoping for. Still, the movie has pulled in a healthy $110.4 million in just ten days, which is still impressive given the time of the year. Depending on how the weekend drops continue, Titans could clash its way to the $150-$160 million range domestically before it ends its run.
Displaying the smallest drop of any film in the top ten (12%) was Dreamworks' animated feature How to Train Your Dragon with an estimated $25.3 million take and $133.8 million to date. Word-of-mouth (and those pesky higher-priced 3D tickets) is definitely helping the film stay afloat following its so-so opening three weekends ago. The movie could match or surpass the $190 million gross of last spring's Monsters vs. Aliens by the time it finishes, which was something many were saying would not be possible three weeks ago when it first opened.
Much in line with his other films, the latest Tyler Perry opus Why Did I Get Married Too suffered a steep drop in its second weekend as the filmmaker's dedicated fan base turned out during the film's first three days. Off 62% from last weekend's big opening, the movie hauled in $11 million this weekend to bring its ten-day estimated total to a solid $48.5 million. Watch for the sequel to finish with $62-65 million in ticket sales, giving Lionsgate yet another big – and profitable – hit from the prolific director/actor.
In fifth spot was the Miley Cyrus weepie The Last Song, which showed surprising staying power in its second turn. Off only 37%, the latest film adaptation of a Nicolas Sparks novel pulled in an estimated $10 million to bring its ten-day total to $42.4 million. The movie should finish near $60 million, close to the gross of this past spring's Dear John; another Nicholas Sparks film aimed at the teen/tween girl market.
Disney's Alice in Wonderland held on with only a 31% drop from last weekend with a $5.6 haul and a new overall take of approximately $320 million to date. The $335-340 mark is still a possibility for the box office smash. Sixth spot went to MGM's sleeper Hot Tub Time Machine with a slight 33% drop from last weekend. Its $5.4 million gross helped bring its total to the $37 million mark. Moviegoers continued to visit Jen and Gerard on their adventures by adding another $4.3 million to the coffers of Sony's The Bounty Hunter, bringing its total to the $56 million mark. In ninth spot was Fox's kid comedy hit Diary of a Wimpy Kid which showed 22% less confidence than last weekend to bring in $4.1 million and a new estimated take of $53.7 million to date.
In tenth spot was the low-budget inspirational drama Letters to God, which brought in a weak $1.25 million from 897 screens. Based on a true story, God tells the tale of a cancer-stricken boy, whose letters that he writes to God wind up inspiring an entire town. Reviews, all nine accounted for on Rotten Tomatoes, were largely against the movie (one positive, eight negative), and audience indifference appeared to follow suit. However, there is a good chance that this one might turn a profit despite its low box office take: it only cost $3.5 million to produce.
Next week, the controversial – and very funny – superhero flick Kick-Ass opens wide, as does the remake of the recent Frank Oz comedy Death at a Funeral. You will be able to interactively predict what these two films and three holdovers will make at next weekend's box office for a chance at prizes in our Weekend Box Office Prophet Game.
– Shawn Fitzgerald