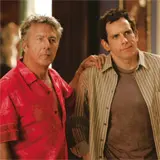 North American moviegoers visited the Fockers over the Christmas weekend as Little Fockers debuted at the top of the box office heap. The Universal comedy was joined by a strong debut for Paramount's True Grit and a pint size opening for Fox's Gulliver's Travels. With Christmas Eve falling on a Friday, no must-see event picture a la Avatar playing at the multiplexes and an overall so-so selection of films to choose from, the box office top ten was off a steep 45% from last year at this time.
Despite debuting 32% lower than its 2004 predecessor Meet The Parents which grossed $70.2 million in its first five days of release, Little Fockers laughed up $34.8 million over the weekend and $48 million since Wednesday. Reviews were as brutal for this comedy as they were for last week's Yogi Bear (11% approval rating on Rotten Tomatoes), but that didn't stop too many people from taking the time out of their busy holiday schedules to visit Ben Stiller and Robert DeNiro for 100 minutes. Those who went however may not have liked what they saw in giving the film a mediocre "B-" Cinemascore rating, which could spell trouble ahead for the film's long term prospects. The $100 million Fockers will need some exceptionally strong word-of-mouth to come close to the $274 million grossed by Meet the Fockers or even the $166 million grossed by the 2000 original, Meet the Parents.
Debuting in second place with strong numbers was Paramount's 2010 version of the classic Western True Grit. Directed by Joel and Ethan Coen and starring Jeff Bridges, Matt Damon and Hailee Steinfeld, the critically-acclaimed (95% RT rating) update arrested $25.6 million over the weekend to bring its five-day debut total to $36.8 million from 3,047 screens. Produced for $25 million, the film could prove to be the Coen Brothers' biggest box office hit to date if word of mouth from ticket buyers proves to be as strong as the reviews were. Currently, the Coens' highest grossing film is their 2007 Best Picture winner No Country For Old Men with $76 million.
Bridges also starred in the number three film in the country, Disney's Tron: Legacy, which dropped by 54% from last weekend to gross $20.5 million in bringing its ten-day total to the $88 million mark. The film's weekend take was no doubt hindered by Friday's curtailed business (family films suffered more than adult-themed films did), but it also apparently suffered due to the hardcore Tron fans checking out the film the week before. With kids out of school, the movie could see its business rebound over the next week or so which should help it reach the $150 million mark domestically. With a reported budget of $170 and an additional reported $120 million spent on advertising, the Tron sequel will have to count on the overseas market to help recoup its costs before having a go at it on home video this upcoming spring.
Landing in fourth place this weekend was Fox's The Chronicles of Narnia: The Voyage of the Dawn Treader. Off a scant 12% from last weekend's gross, the film nabbed $10.8 million in its third go around to bring its total to an estimated $64 million, still lower than the $67 opening weekend for the 2005 original. With a holiday boost, the film could see its domestic gross land between $85-90 million. Overseas, the film has amassed $129 million to date.
Nabbing 46% less picnic baskets this weekend was Warner's 3D comedy Yogi Bear. It nabbed $8.8 million from 3,515 screens in round two to bring its ten-day total to the $37 million mark. Yogi and Booboo might finish in the $60 million range. Sixth place went to Paramount's critically acclaimed drama The Fighter which KO'd $8.5 million over the holiday weekend. Off a modest 30% from last weekend, Mark Wahlberg's latest has pulled in $27.5 million after ten days of wide release.
Opening on Christmas Day was the number seven movie in North America, Fox's Gulliver's Travels, with a measly $7.2 million from 2,546 screens. The comedy, which stars Jack Black and Emily Blunt, was savaged by critics (21% RT rating) and met with indifference from ticket buyers. Fox fared better with the number eight film, the critically-acclaimed thriller Black Swan which danced its way to $6.6 million from 1,452 screens. To date, the Oscar hopeful has grossed $29 million after four weeks. The film is now the highest-grossing production of director Darren Aronofsky's career so far.
Disney's Tangled hung tough in ninth place this weekend to gross $6.5 million to bring its five-week total to an estimated $144 million. Rounding out the top ten was the Sony misfire The Tourist with an estimated $5.7 million. After three weeks, the $100 million production has amassed a small $41 million to date. Sony's other holiday disappointment, James L. Brooks' How Do You Know, dropped out of the top ten after only one weekend and saw its grosses fall by half this weekend. After ten days, the $120 million production has grossed a disastrous $12 million with not much more to come.
No major theatrical film releases are scheduled next weekend as 2010 winds down its final days. Our Weekend Box Office Prophet Game will return the following week to help kick off 2011.
– Shawn Fitzgerald