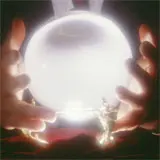 Four new films took the box office by storm this past weekend resulting in the most lopsided round of our Weekend Box Office Prophet game yet.
Law Abiding Citizen threw off just about everyone with its huge gross, especially the Prophet who missed it by over $12 million. The Stepfather, Paranormal Activity, Where the Wild Things Are and even Couples Retreat in its second weekend all beat expectations en route to a record setting October weekend.
The Prophet's scores managed to best the overall player average score for Where the Wild Things Are, nothing else. You all missed The Stepfather and Paranormal Activity by under $1 million each and Couples Retreat by just over $1 million. Great job! The Prophet knows when to concede defeat and will be issuing veteran player avonbarksdale a movie or two for being the only player to miss all five films by a cumulative total less than $10 million. See the full results for October 16-18 as well as the cumulative leaderboard.
The next game will feature Saw VI, Cirque du Freak: The Vampire's Assistant and Astro Boy looking to top Where the Wild Things Are, as well as Amelia on fewer than 1,000 screens. It launches tomorrow, October 20, so be sure to check back and play.