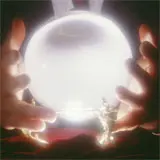 The first week of our new Weekend Box Office Prophet Game featuring Halloween 2 and The Final Destination squaring off is in the books and I can safely tell you all that, so far, it is a resounding success.
You never know what to expect from a new site feature, especially one that requires registration to participate. I figured maybe 10 of you were willing to take on the Prophet at his own game. By the time prediction taking closed last Friday evening there were a total 49 players plus the Prophet. To all who played I offer a big THANK YOU.
Of those 49 players, 7 managed to score higher than the Prophet in a weekend when the final box office tallies all came in lower than studio estimates released on Sunday. The Final Destination threw many off, the Prophet included, as 3D ticket sales helped boost its receipts. Taking Woodstock under performing despite a heavy marketing campaign also knocked several scores back.
I have to give a shout out to Leon who not only took the top spot but did so by being the only player to cumulatively total less than $10 million in difference between his 5 predictions and the 5 films represented in the game.
I invite you all to view the final results leaderboard, which includes a scoring explanation, and check back tomorrow morning as we kick off the second week of the Weekend Box Office Prophet game which will be available under the "Movies" navigation tab above.