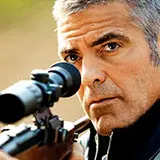 Labor Day weekend delayed the weekend box actuals by a day but they're here now and present a wider margin of victory for The American over Machete and Takers.
In our Weekend Box Office Prophet Game, the Prophet defeated the average player predictions 5-0 in a convincing win. The players came close on Going the Distance but ultimately came up short. As such, top player finisher codyunderblood scores a consolation DVD.
The complete top 10 weekend box office results for September 3 – 5, 2010 are as follows:
1. The American: $13.2
2. Machete: $11.4
3. Takers: $10.9m
4. The Last Exorcism: $7.3m
5. Going the Distance: $6.9m
6. The Expendables: $6.6m
7. The Other Guys: $5.3m
8. Eat Pray Love: $4.8m
9. Inception: $4.6m
10. Nanny McPhee Returns: $3.5m
Resident Evil: Afterlife in 3D is the lone new entry this upcoming weekend at the box office. Check back later tonight for the next round of our Weekend Box Office Prophet Game knowing there's essentially zero chance Resident Evil will not finish first.