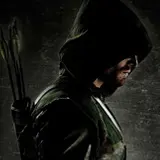 Last night The CW premiered the latest superhero to hit the small screen with Arrow. If you forgot to watch it or set the DVR, The CW has your back as they have made the entire Arrow pilot premiere available to stream online. Read below for the link.
Arrow will surprise a lot of people with its grittier attitude and vision than The CW's long-running previous superhero-themed series, Smallville. Stephen Amell as Oliver Queen/Green Arrow doesn't dish out justice as a vigilante with a code of honor. He has an agenda and if executing that agenda requires putting arrows through the chests of his enemies then so be it.
In other words, Arrow is not a show for kids.
Where the Arrow story needs to be cautious is not falling into the trap of making each episode the hunt for a corrupt person in Oliver's book that came from his father. Predictability will become a drag real fast if every episode follows the same template. The show could also do without excessive voiceover which cheapens the plot, though the flashbacks to the accident that ravaged Oliver's life are some of the most compelling scenes and are expected to continue moving forward. How does he end up with the sweet bow and arrows, anyway? I guess we'll find out later on.
Also appearing in Arrow are Willa Holland as Thea Queen, Paul Blackthorne as Detective Quentin Lance, Colin Donnell as Tommy, Katie Cassidy as Dinah Laurel Lance, Susanna Thompson as Moria Queen, and Emily Bett Rickards as Felicity Smoak.
Watch the full Arrow pilot premiere at the official CW website.