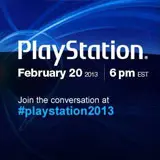 The gaming world will simultaneously fixate all eyes on New York City early this evening where the Sony Playstation Meeting 2013 is expected to reveal the hotly anticipated Playstation 4 console to the world for the first time. The big event will help shape the next generation of gaming and hopefully deliver some early looks at upcoming PS4 exclusive titles and potential "system sellers."
Hype has been building for tonight's Playstation meeting for several weeks after Sony first announced it. During the wait there have been numerous leaks including an apparently redesigned controller that adds a touchpad and PS Move functionality while removing the "Start" and "Select" buttons. Depending on which rumor you believe, there might be a new "Share" button that will allow gamers to upload gameplay footage directly to YouTube with a single click.
The gap between physical and streaming media is expected to be bridged in the next generation of gaming consoles. Wii U is already offering most of its games via disc or download, and there are rumors that Sony will utilize the Gaikai streaming company's assets that they purchased last year to create a Playstation cloud of some sort. It's from this cloud that backwards compatibility for PS3 titles would be achieved; not via discs.
With big industry names like Quantic Dream (Heavy Rain) CEO Guillaume de Fondaumiere expected to be in attendance tonight, anticipation is running high that some big software reveals will also take place. It is widely speculated that Quantic Dream is working on a Playstation 4 exclusive title, and Naughty Dog's development team that worked on Uncharted 3 is preparing Uncharted 4 as a Playstation 4 exclusive launch title.
The worst thing Sony could do at this time is not reveal Playstation 4 this evening and lose the incredible momentum they have built up to this point. It's doubtful they will reveal everything about PS4 as something would have to be left back for E3 in June. However, now is their time to shine and deliver the goods everyone expects them to, along with the necessary PS Vita updates.
Sony Playstation Meeting 2013 officially starts at 6pm EST/3pm PST. You will be able to watch a free live online streaming version from the comfort of your couch, cell phone, laptop or whatever here at the official Sony Playstation 2013 meeting website. As a Christopher Nolan Batman villain once said, "let the games begin." Bring on Playstation 4.