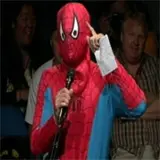 One of Comic-Con 2011's biggest highlights (thus far) came from Hall H yesterday as Sony's The Amazing Spider-Man panel was getting underway. It was a stunt, of sorts, the kind that can easily backfire and come off as self-serving and corny. This one not only went off without a hitch, but was delivered with genuine emotion.
The moment began when a chap wearing a poorly made Spider-Man outfit and a fanny pack walked up to the q/a microphone and started rambling on about it being the most incredible day of his life. The moderator kept telling him the q/a session was at the end of the panel, yet that didn't seem to stop the webslinger impersonator from continuing to deliver his message.
In one swift stroke, the nerd with the English accent ripped off his mask and the crowd went wild. Andrew Garfield, Peter Parker in The Amazing Spider-Man, was now addressing the fans as one of them. Breathing heavily from nervousness, Garfield read a prepreparred statement about the influence Stan Lee and Spider-Man have had on his life, especially growing up as a skinny kid. He might as well have been speaking for almost every person glued to their seats and cheering him on.
Garfield looked like he was on the brink of tears as he went on. After announcing the panel's participants and taking his seat, he confessed that he was so scared of doing the stunt that he almost didn't.
Comic book fans and nerds the world over are glad he did.
The Amazing Spider-Man is directed by Marc Webb and stars Andrew Garfield, Emma Stone, Rhys Ifans, Denis Leary, C. Thomas Howell, Sally Field and Martin Sheen. The 3D reboot swings into theaters on July 3, 2012.