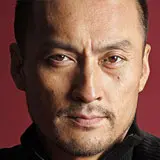 Batman Begins has been kind to Christopher Nolan in terms of helping launch his career into the stratosphere and supplying talent for future projects.
Begins' alum Cillian Murphy has already signed up for Nolan's sci-fi contemporary sci-fi thriller Inception and now another villain from that film is following suit. No, I don't mean Liam Neeson who is currently working on the Clash of the Titans remake.
Per The Hollywood Reporter, Ra's Al Ghul imposter Ken Watanabe is on board to play Inception's main villain who blackmails Leonardo DiCaprio's corporate character. Any other details about Watanabe's role are being kept under tight wraps — much like anything about the film.
Also joining Inception is British actor Tom Hardy who will play a member of DiCaprio's "team." In addition to Watanabe he joins Joseph Gordon-Levitt, Cillian Murphy, Ellen Page and Marion Cotillard.
Nolan wants to lens Inception this summer for a potential summer 2010 release.