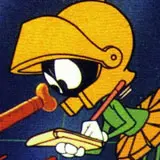 Variety.com is reporting Warner Brothers has begun development at Alcon Entertainment on a feature-length film based on the Looney Tunes character Marvin the Martian.
Marvin first appeared in 1948 and since has become known as the stubborn helmeted alien intent with blowing Earth to pieces only to be foiled by Bugs Bunny at the last moment.
The film was pitched as a blend of live action and CGI at Christmastime. Marvin comes to Earth to destroy Christmas only to somehow become trapped in a gift box instead. From there we presume someone with a kind heart opens the box and teaches Marvin that dynamite = bad and kindness = good.
Marvin the Martian will be aimed at the same youth-skewed audience as two other Alcon films, Racing Stripes and My Dog Skip.
A timetable for release has not yet been set. Though we're sure when one is, Marvin will try to blow it up.
Are you happy Marvin is coming to the big screen? Share your thoughts on this news in the HDR Forums.