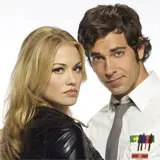 Chuck: Season Two starring Zachary Levi on Blu-ray Disc has been available for pre-order for several weeks at online retailer Amazon.com. Now we finally have a release date and details to share.
As with season one, Chuck will make its way to Blu-ray in 1.78:1 1080p video and 5.1 Dolby Digital audio.
Bonus features are comprised mostly of a series of featurettes as outlined below:
Truth, Spies and Regular Guys: Exploring the Mythology of Chuck
Dude in Distress: Explore Some of This Season's Best Action Sequences
Chuck Versus the Webisodes: Web-Originated Minifeaturettes
Chuck: A Real-Life Captain Awesome's Tips for Being Awesome
John Casey Presents: So You Want to Be a Deadly Spy?
Declassified Scenes
Gag Reel
With news an extra six episodes have been ordered for 2010, it's a good time to be a Chuck fan.
Click here to pre-order Chuck: Season Two on Blu-ray Disc for $55.99 at Amazon.com.