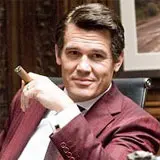 Bulls and bears roughed up the owls at the box office on Friday as Wall Street: Money Never Sleeps topped Legend of the Guardians in a battle for first place.
The sequel to Wall Street which saw Michael Douglas return as Gordon Gekko and introduced Shia LaBeouf, Josh Brolin, Carey Mulligan, Frank Langella and Susan Sarandon pulled in $7 million its opening day. It should finish the weekend somewhere in the range of $18 to $20 million.
Zack Snyder's Legend of the Guardians: The Owls of Ga'Hoole enjoyed the added benefit of 3D and IMAX ticket prices but could still only muster $4.5 million on Friday. Though its business will likely pick up a little through the weekend while Wall Street 2's drops, the Owls will be lucky to hit $17 million through Sunday and could be battling with Ben Affleck's The Town for second place.
Check back tomorrow afternoon for the complete weekend box office results.