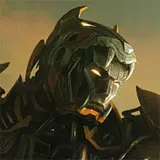 New life was injected into the Voltron: Defenders of the Universe live-action movie this morning and tears of joy were spread by children of the 1980s anxiously waiting for this project to get off the ground.
A JoBlo tipster sent them word that Atlas Entertainment has hired screenwriters Thomas Donnelly and Joshua Oppenheimer as part of a pitch to studios for their Voltron project. If the duo doesn't found familiar, think of them this way: they wrote the upcoming Conan reboot and are already writing Marvel's Dr. Strange as well as an adaptation of Sony's Uncharted: Drake's Fortune based on the Playstation 3 game of the same name.
A cooler part of Atlas' pitch are a pair of concept art images that depict an more edgy Voltron fighting to save our planet. Voltron squaring off against Robeast as the city lay in ruins around them throws off a Transformers vibe but on a much larger scale. Would you rather see Optimus Prime and Megatron brawling again or these two massive metallic warriors squaring off?
View the high resolution versions over at JoBlo.