Vin Diesel let his 44 million plus Facebook fans know that his previously revealed meeting with Marvel has come and gone, and that it was, in a word, "wow."
Of course no one outside of the meeting will discuss exactly what was discussed, but it isn't too hard to connect the dots. With Marvel's Guardians of the Galaxy on the verge of beginning its shoot, the next Avengers related project to enter the casting process is none other than Joss Whedon's The Avengers 2. That's a big billion-dollar plus potential project, obviously, and Diesel's presence would only help boost box office ticket receipts.
Going with this train of thought, Diesel shared an image of himself in the Marvel offices, standing in front of a blown up comic book cover for The Avengers. Not just any cover, mind you, but the cover for issue #2. Again, connect the dots; The Avengers and the number two.
The prevailing theory right now is that Diesel is being courted for the role of Thanos, a big bad in the Marvel universe who was teased briefly in the post-credits scene of The Avengers. Diesel has the deep voice one would expect to come from a big, mean alien, and he's got the on-screen gravitas to pull off the role.
Some are speculating that there's a hint in part of a line that Diesel included with the photo. "You know I get tunnel vision with my work," he said, which may or may not be a sly way of hinting that the role in question is for the character of Vision.
Circling back to Thanos, there's some potential for that character to appear in Guardians of the Galaxy given its cosmic nature and the fact that it is the lead-in film to The Avengers 2. Getting Vin Diesel on board now would seem to leave that possibility open, that is assuming Diesel and generally tight-pursed Marvel can strike a deal.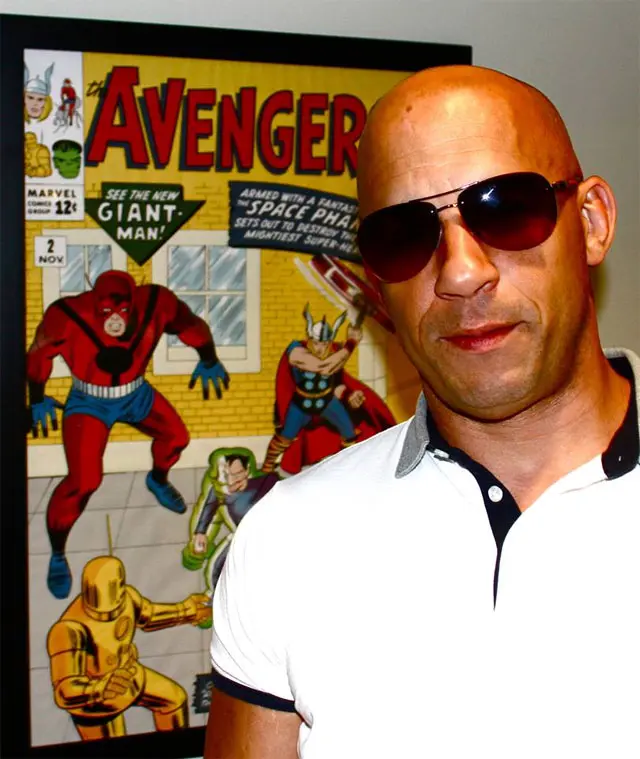 Source: Facebook